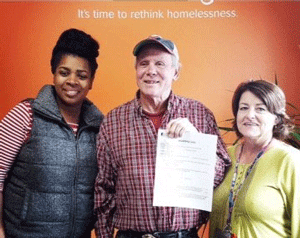 For anyone with a serious mental illness, having a safe, stable place to live is critical for a successful recovery and life in the community. In a recent survey, case managers from the Fairfax-Falls Church Community Services Board (CSB) reported that 733 individuals they were currently serving needed affordable housing.
"We see housing as a springboard to stability for so many different aspects of people's lives," says CSB's Connie Price, who oversees housing partnerships and residential facilities development. For many people with serious mental illness, a successful life in the community requires stable, safe housing plus clinical support. This combination is known as "permanent supportive housing."
A new program, launched by CSB and New Hope Housing, Inc., and funded through a multi-year, $1.4 million state grant, is developing permanent supportive housing options for adults in our community who have serious mental illness. SUSTAIN (Supported Upward Stability Through Advocacy In New Housing) supports the development of 33 permanent supportive housing units for individuals currently receiving CSB services who are homeless, at risk of homelessness, or at risk of coming in contact with the criminal justice system. Also eligible are individuals leaving hospitals or state institutions, such as the Northern Virginia Mental Health Institute, who have no housing plan.
In the first year of the program, CSB and New Hope Housing placed 16 individuals in newly developed supportive housing units. The Virginia Department of Behavioral Health and Developmental Services announced this week that CSB will receive additional funding for the program ($467,400) in Fiscal Year 2018, to further expand the successful effort and provide housing for another 30 individuals.