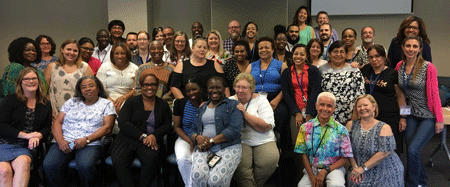 What happens when someone's mental illness or substance use disorder is so acute, so disabling, that they can't connect with the people who could help them?
"There, but for the grace, could be you or I," says Davene Nelson, Director of CSB's Intensive Community Treatment Services. "We have no idea how much despair that person is experiencing."
CSB's Intensive Community Treatment (ICT) Services staff works with individuals who experience acute symptoms of mental illness, often combined with substance use disorders and complex medical conditions. Some live in the woods, or in homeless shelters. Some are being discharged from psychiatric hospitals or released from jail. Most have experienced trauma and physical hardship. Many have become alienated from friends and family.
ICT Services include: Intensive Case Management (ICM); the Program for Assertive Community Treatment (PACT); Hospital Discharge Planning; services for individuals who are judged Not Guilty by Reason of Insanity (NGRI); and Projects for Assistance in Transition from Homelessness (PATH).
Michael Britt works with the Intensive Case Management (ICM) team at CSB's North County (Reston) office. "People who come to ICM have a lot of instability – they may have co-occurring substance use disorders, medical problems, as well as acute psychiatric symptoms. There's a lot of trauma history; many people aren't used to having a safe place," he observes.
Michael says his first task is to help the person feel safe, then build from there. "I help them get food, something practical," he explains. "They see I don't judge them, and they start to feel safe."
Michael says he has witnessed "some dramatic turnarounds," when he and his coworkers were finally able to connect with someone who had been very ill for years and resistant to services. One woman had been living in a dumpster, unable to communicate with other females. Michael and the team helped her get housing and stabilize her symptoms. Today she has reestablished communication with her family, attends a church, and has made friends. "Those things are pretty special," he says.  
In South County, Tricia Herrity and the ICM team at the Gartlan Center are helping another woman fulfill her lifelong dream to have a career in health care. Michelle* recently completed a Workforce Network program at Northern Virginia Community College (NOVA), passed the exam to become a Certified Clinical Medical Assistant, and has begun her internship with a local neurologist's office.
"I always wanted to do something better with my life. I always wanted to be somebody special, somebody important," Michelle explained.  When she told her ICM team that she wanted to go back to school, they helped her discover and apply for the program at NOVA, which offered her a scholarship. The rest was up to Michelle.
"I really had to press my way every day," she said. In addition to lecture classes, she learned hands-on skills like phlebotomy and how to conduct an EKG. "Some days were difficult," Michelle says, "because I do have a mental illness." But Tricia was there when Michelle needed support. Michelle explains: "I could talk to her when I was down. Her words made me feel better." When Michelle passed the certification exam, Tricia organized a party to celebrate. "It was really fun – we had cupcakes; I still have lemonade in my fridge," Michelle says with a smile.
Rebecca Knowles is a vocational specialist with the PACT team (Program for Assertive Community Treatment). PACT works with individuals who need the most frequent engagement CSB can provide in the community. PACT is staffed 24/7, 365 days a week and works closely with CSB's other 24/7 programs, including emergency services and residential programs.
"The work is so rewarding," Rebecca says. "We have to think out of the box." Patiently developing relationships is key to helping people engage in services. "If they are on the streets, at the bus stop, that's where we will be," she explains. If the person has a home, the PACT staff tries to talk with them there. "They may just talk to us behind a closed door," Rebecca says. "But we keep going back."
Peter* says he wasn't too happy the first time PACT staff member David Petty came into his home and told him he needed to take his medication.
"I love David. He started out tough – I kinda didn't like him at first," Peter admits. "I was offended, I thought: 'I always take my meds. How can I prove this to David?' So I took a notebook and wrote down when I took the medication. After that, he was ok."
"Mental illness can be a horrible disease – it grabs you and won't let go," Peter explains. "Until you realize it's grabbing you, it's extremely painful. You can't escape it without help – medicine, therapy, support. PACT was great – whenever I needed support, they were there. When I didn't need support, they gave me my freedom. I thank them for what they did for me – they treated me like a person."
"Now I have my supports," Peter continues, "and I take medicine every day."
In June, Peter received a bachelor's degree in education from George Mason University and led his class procession at graduation. "It was awesome," he said, as he finished his celebratory ice cream.
*Pseudonyms, rather than real first names, have been used to protect the privacy of the individuals receiving CSB services who agreed to be interviewed for this story.