Finding the Right Fit: Self-Directed Services for people with disabilities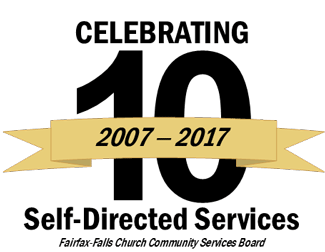 "My special needs daughter is on a [waiting] list 'a mile long' for services from traditional sources; self-directed services have been a godsend."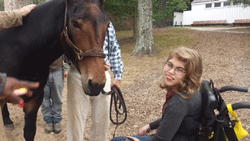 "The Self-Directed Services funding has allowed flexibility and opportunities for my daughter to fully participate in activities that are more meaningful and, most importantly, her choice. We are grateful she has this choice!"
These parents echo comments made by many whose adult children participate in the Fairfax-Falls Church Community Services Board's (CSB) Self-Directed Services (SDS) program, now in its 10th year of helping adults with developmental disabilities learn or improve important skills that enable them to be active and thrive in their communities.
The mission of SDS is to assist families, through direct funding, resource identification, and technical assistance, to purchase the support services necessary for their family members with a developmental disability to access and participate in community based activities they determine to be meaningful and beneficial.
Activities may be recreational, educational, vocational, or volunteer in nature or they may provide practical training in safety skills, such as crossing streets, interpreting stop lights and other signals, and asking for help from appropriate sources. Other activities include social skills development, such as learning how to engage appropriately with others.
Companions, recruited and compensated by families, help individuals identify those things they would like to do, accompany them to the activities, and support them while the activities take place. Activities may be formally structured, as in a class or club, or individually provided by a companion in a less structured setting. The approach is flexible to best meet the individual's needs and preferences. With SDS, families decide how to focus their available resources to best address their loved one's needs and interests.
According to Joel Friedman, SDS program manager, "Our service philosophy promotes flexible choices for everyone. We listen to families, brainstorm creative solutions, and provide support that is based on an individual's choice. Families often come to us with ideas for activities or experiences. Our goal is to try and get to 'yes.' Built on partnership, CSB's Self-Directed Services program is making a positive difference in many lives!"
The program has proven to be popular. When SDS started in July 2007, there were just five families involved; today, there are over 100. "We're excited to see such growth over the past decade; our future looks bright," says Friedman.
Fairfax County is experiencing an increase in the number of families seeking individualized services for their loved ones with disabilities. This need, along with a greater number of special education students graduating from public schools in recent years, has resulted in a greater demand for choices for young people after high school. Programs such as SDS can provide part of the solution to this ongoing challenge. Community partners, such as The Arc of Northern Virginia, which serves people with intellectual and developmental disabilities, strongly support the SDS program. According to Rikki Epstein, Executive Director of the Arc, the program is economically sound and popular among participants. "The flexibility of the SDS program allows families to select services and options that are most supportive and meaningful to the person with a disability; they also save at least 20% cost per person per year over traditional day programs. The program has a very high satisfaction rating and it seems to be a good fit for many people."
SDS' popularity is expressed by many, including one local mother who sums up her enthusiastic support of the program:
"I have been fortunate enough to be part of the SDS program for several years, for the benefit of my "adopted" daughter Elena. With program funding we have been able to hire companion care for Elena, who needs 24/7 care. This program has been focused on using funds for "activities" not just care, which is exactly what Elena wants. I also appreciate networking with other parents in similar situations, and the support from CSB staff has been great."