Want to decrease stigma of seeking help for mental health support in our communities? Don't miss an opportunity to apply for a mini-grant, with $6,000 available in total, for requests not to exceed $1,000 each. Grant funds are used to highlight youth-led and youth-planned activities surrounding mental health stigma reduction and suicide prevention.
Funds are made available through a grant from the Virginia Department of Behavioral Health and Developmental Services (DBHDS) and the Fairfax-Falls Church Community Services Board (CSB).
A Request for Proposals will be released on September 3, 2019, and be posted here.
Grant recipients earlier this year created innovative and impactful programs with grant funding. Read about their successes: 
We Are With You:  This amazing group of youth leaders provided a mental health stigma project entitled "We Are With You" to after-school program participants at the Southgate Community Center. The purpose of this project was to reduce the stigma surrounding mental health. They aimed to not only improve self-confidence and self-esteem, but to also provide these young people with the tools needed to provide support to their peers. They discussed topics like stress, conflict, and anxiety to challenge negative stereotypes. The youth leaders performed research to plan for each topic covered, prepared the supplies and materials for each activity, and were instrumental in implementing all the activities covered in their program. Check out this short video of one of their workshops.
Using Positivity to Improve Teenage Girls Confidence: Approximately 2,100 students who attend Lake Braddock Secondary School will be able to reap the benefits of the "Using Positivity to Improve Teenage Girls Confidence" project. This group of dedicated young people created an initiative that provided confidence boosts and positive self-talk tools for their peers by painting positive messages on the stalls and walls of girl's locker rooms and restrooms throughout the school. They were also able to provide information about mental health resources to the students by attaching these resources to all the bathroom stall doors. Great job ladies!
Human Rights Club: Students in the Human Rights Club at Centreville High School presented an optional in-service to 51 school staff members in June 2019 about working with the LGBTQ+ community. The HRC purchased t-shirts for the club members, refreshments for the staff presentation, and informative posters to keep up year-round in the school. Thanks to the Human Rights Club these teachers will be able to positively impact the hundreds of students that they come across each year. Their presentation focused on mental health statistics for the LGBTQ+ population, discussed the use of pronouns, and these wonderful students shared personal stories of the impact that intolerance and a lack of acceptance has had on their lives. We are truly thankful for the Human Rights Club!
West African Collaborative: The West African Collaborative used their grant to provide workshops for 40 students that focused on mental health awareness. These young people were able to replace stigma with evidence-based information about the signs, symptoms and effects of mental health diagnoses. Not only did they learn this information for themselves, but they also created 10-minute presentations to inform others. These young leaders also learned tools for coping with stress, depression and bullying and informed their peers on ways that could also use the identified coping mechanisms. Their program not only focused on learning about mental illnesses, but also taught skills to properly manage personal emotions and verbalize them through healthy avenues such as poetry, storytelling and art. Keep up the good work West African Collaborative, we are in awe of your dedication and hard work!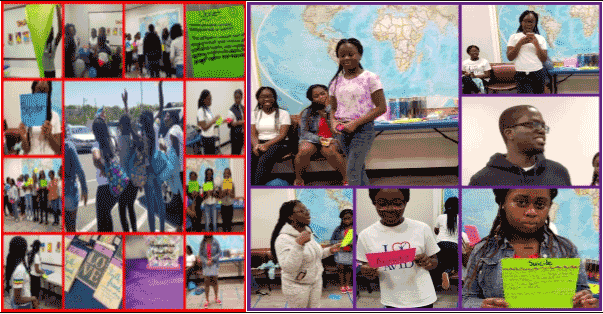 Can We Talk: Can We Talk provided insight to 20 youths on mental health disorders such as anxiety, autism, ADD/ADHD, depression, and post-traumatic stress disorder. Throughout the four-day campaign, teens were able to have open conversations, as well as do activities and create social media posts surrounding mental health. The purpose of their campaign was to bring awareness to mental health and reduce the stigma that surrounds it. These youth leaders also learned self-care techniques while also creating social media campaigns. Finally, all participants took a pledge to stop bullying in the community and created a poster to show that bullying is not tolerated in Stony Brook. Wonderful job!
Walk in Our Shoes (CPDC): Throughout a course of three months, Ayesha Abdullahi and Ahlam Ali (of CPDC) met with a hundred students at five different affordable housing sites (Island Walk, Cameron Crescent, Cedar Ridge, West Glade, and Stonegate apartments) to provide interactive lessons about mental health awareness. Throughout the project, the pair taught youth how to stop or reduce stigma, how to cope with both mental health conditions and the stigma that comes along with them, and how to help someone with a mental health condition - both dealing with students with mental disabilities and helping them find the resources to get better. During their initiative they were able to engage students from first through 12th grades! Way to go CPDC!
Highway Kids: The Highway Kids utilized their grant to create an original documentary centered around a teen-led group discussion about mental health, and challenged the negative stigmas associated with the certain terms used to describe mental illness. They project that their documentary will be able to reach at least 300 young people, and we cannot wait to see the final project! Congratulations to the Highway Kids.