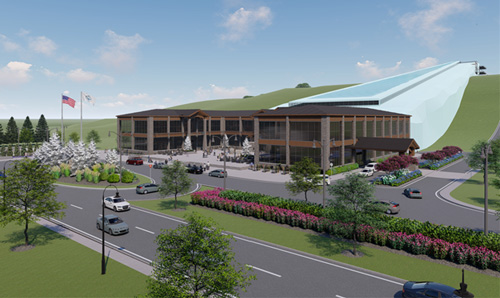 On December 21, 2018, Alpine-X LLC (the "Developer") submitted an unsolicited proposal (the "Project") to the County for the redevelopment of portions of the I-95 Lorton landfill, owned by Fairfax County.
The Project, called "Fairfax Peak",  generally envisions creating a recreation destination anchored by an indoor ski facility, hotel, with other complimentary recreational facilities (Project), as listed below: 
Multiple ski slopes, inside a structure, at approximately a 20-degree angle, including a slope compliant with the Fédération Internationale de Ski's standards, ensuring it can be used for competitions; 
A specially designed area for skiing and snowboarding with a variety of ramps, jumps, rails, boxes and other features, capable for use in national snowboarding and freestyle skiing competitions;
A bunny slope for beginners, snow tubing run and area for skiers and snowboarders to perform tricks; 
Restaurant, ski shop and dining terrace at the summit;
A hotel at the base of the indoor snow facility; 
A gravity-powered, mountain coaster that will slide from the summit to Occoquan Regional Park; and, 
A ropes course and other outdoor activity areas.
Future development of the Project will be contingent on the Developer successfully achieving future regulatory review and permission, which will include all required land use entitlements and state regulatory requirements, which are not included in the scope of the proposed Interim Agreement. No rights to apply for these are granted to the Developer at this time under the proposed Interim Agreement.