Article by Mary Jane Dye, Editor, Golden Gazette, Department of Family Services
(Posted 2021 March)

---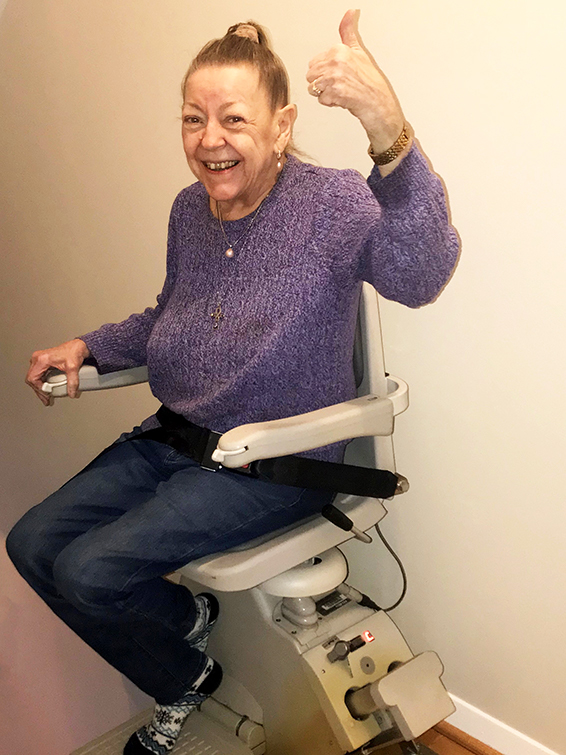 Rebuilding Together Arlington/Fairfax/Falls Church is a nonprofit that makes health and safety repairs for homeowners with limited incomes. Its teams of skilled volunteers help Fairfax County homeowners with accessibility modifications, home repairs, and overdue maintenance problems at no charge.
Rebuilding Together is safely working through the pandemic. They are doing this by relying on smaller teams who strictly follow COVID-19 safety protocols to protect clients and volunteers.
Recently, the group learned a specialty skill—installing stairlifts. "A stairlift can be life-changing for those who can no longer safely navigate stairs, says Patti Klein, executive director, Rebuilding
Together. She also says that volunteers can build wheelchair ramps for homeowners in need of one.
Not everything they do is a specialty skill. Rebuilding Together volunteers routinely conduct Home Safety Checkups for 30 frequently needed health and safety repairs. "Most homes have multiple hazards that our volunteers can correct," says Klein.
Most of the projects significantly improve fall safety. According to Klein, this is a result of installing grab bars, double stair rails, exterior handrails, and brighter lighting. Additionally, Rebuilding Together checks for and fixes fire hazards (clogged dryer ducts), faulty door locks, and moisture and ventilation problems. Frequently the volunteer team finds that homes are not equipped with a fire extinguisher or smoke and carbon monoxide detectors.
"Now more than ever, we need our homes to keep us safe and healthy," says Klein.
If you are interested in Rebuilding Together's free home repairs, visit RebuildingTogether-AFF.org. The income cap to qualify is $55,750 for one person and $63,700 for a couple. For more information, call 703-528-1999.
---
This article is part of the Golden Gazette monthly newsletter which covers a variety of topics and community news concerning older adults and caregivers in Fairfax County. Are you new to the Golden Gazette? Don't miss out on future newsletters! Subscribe to get the electronic or free printed version mailed to you. Have a suggestion for a topic? Share it in an email or call 703-324-GOLD (4653).
---