Article by Tanya Erway, Volunteer Solutions Recruitment Coordinator, Department of Family Services
(Posted 2021 July)

---
With the advent of virtual schooling and social distancing this past year, today's youth have spent more time online than ever before. It's inspiring to learn about young people like Nick Matsukas and others of the Young Men's Service League of Vienna-Oakton who refused to let a pandemic stop them from making a difference in their community.
The Vienna-Oakton chapter of the league has 123 boys and 115 moms. Their mission is: "To assist, serve and support those who are in need in our community, develop leadership skills among our membership, and promote mother-son relationships." It provides mothers and sons valuable, philanthropic opportunities to bond and serve together during their high school years.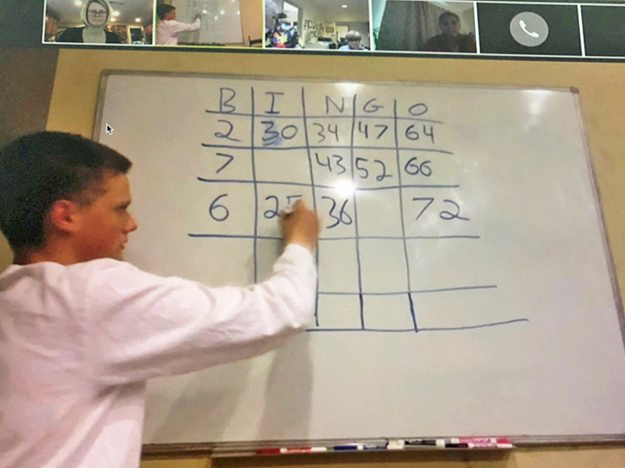 When the pandemic hit, the league got busy creating ways to continue offering volunteer services while social distancing. The philanthropy that Nick's mom Tina supports is Fairfax Seniors. Nick created Virtual Bingo for the Herndon Senior Center last summer. It was offered once a week through Zoom.
For several weeks, Nick met virtually with a group of older adults to call bingo numbers and letters. He realized it was important to train other members to help run the game. So, he created a webinar. When the boys returned to in-person learning, bingo transitioned to the Virtual Center for Active Adults.
The Young Men's Service League of Vienna-Oakton has also supported older adults by writing notes to people in Herndon and Fairfax under the Volunteer Solutions' "Caring Cards" initiative. The boys have also done small, odd jobs for Herndon Senior Center (pre-pandemic and during), e.g., Nick brought home their wooden backgammon game, glued, and fixed it. Additionally, they've done outdoor gardening at the center, too.
Other outdoor activities have included cleaning up yards for the past few years during Volunteer Solutions' annual Helping Hands projects and raking leaves this past fall. They have also collaborated with the Fairfax County Park Authority to clean up debris, pull weeds, and spruce up historical sites.
During this past year, they helped with the Cornerstones Personal Protective Equipment (PPE) Drive (a local nonprofit.) They assembled bags of PPE that contained a face mask, hand gel and a face shield that were distributed to school-age children, outside in Reston. Women Giving Back is yet another philanthropy that the league supports. The boys and moms sort and box clothes, make shelves and assist during the shopping hours.
These are just a few examples of fantastic work that these young men and their mothers have been doing for several years. Learn more about YMSL Vienna-Oakton. 
Check out current ways to volunteer in Fairfax County.
---
This article is part of the Golden Gazette monthly newsletter which covers a variety of topics and community news concerning older adults and caregivers in Fairfax County. Are you new to the Golden Gazette? Don't miss out on future newsletters! Subscribe to get the electronic or free printed version mailed to you. Have a suggestion for a topic? Share it in an email or call 703-324-GOLD (4653).
---