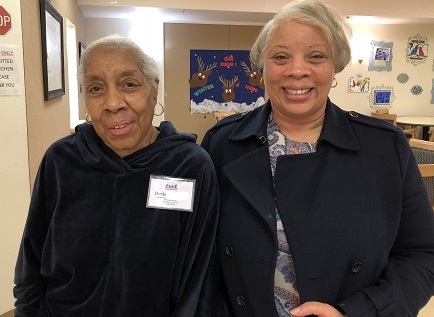 "Life happens. You know things change. But when this hits you, the stress level is so high — it is so hard," said longtime Fairfax County resident Diane. Together with her sister, she is responsible for the daily care of her elderly mother, Doris.
It wasn't always this way. Her mom lived at her home in Ohio, spending several months of the year with her daughters in Fairfax. This arrangement worked well for some time, but then things changed. Her mom was hospitalized with pneumonia.
"She could no longer be alone. I considered retirement to care for my mom. I knew it wasn't the right decision for me long-term — but in that moment, it was the best option for her," Diane said.
After exploring a myriad of options, including home care, the family decided to enroll Doris in Herndon Harbor Adult Day Health Care. Diane and Debbie held their breath that first day as they walked their mom into the center.
"Will she be ok? Will she like it? I was so nervous that first day. I called the center, and the nurse said that Mom was talking to people, laughing and enjoying herself. It was a relief."
One month into her enrollment at Herndon Harbor, Diane noticed positive changes in her mom's health, including better mobility and an increased interest in physical activity. She also talked more and her memory improved. Perception went up, too. "It used to be difficult for Mom to gauge the space around her, and, for example, sit in a chair properly. But now she can move more safely."
The best part? Doris was back to caring about her appearance, socializing and taking interest in other people.
My mom got a part of herself back. Even her complexion is better — she looks and acts more like herself again. I am so appreciative.
Caregivers and potential participants are always welcome to join us for lunch and a tour, and find out what Fairfax County's Adult Day Health Care service is all about. Make your reservation today!