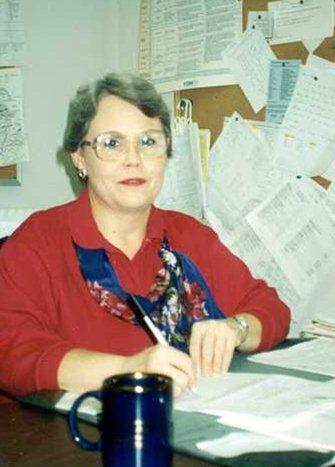 In 1965, Edwyna Wingo was as a field nurse, working clinics and providing health services to students at three elementary schools for the Fairfax County Health Department. Back then, public health nursing centered on teaching new mothers how to care for their babies, assessing young students for possible developmental delays, stopping the spread of communicable diseases, and administering vaccinations against childhood diseases.
Today, Edwyna is still going strong, and while she no longer wears her nursing hat, she continues to proudly serve the health department as a coordinator of the Virginia Department of Health's car seat program that supplies car seats to families in need.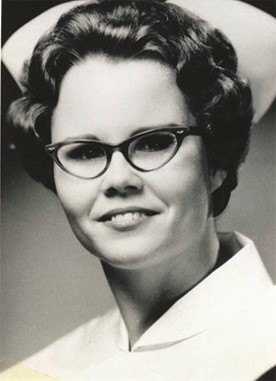 Over her career, Edwyna has been a part of some big changes in public health nursing. In 1974, she was asked by then Director of Health, Dr. Harold Kennedy, to start a school aide clinic program. She hired 128 new health aides. Edwyna served as a nursing supervisor at the Herndon office and a nurse manager at the former Seven Corners district office, she developed a skin-deep tattoo removal program for youth, and managed clinic services at the Joseph Willard District Office. She also saw public health nursing grow to offer increased opportunities in specialized services. Nurses can now work in specific fields, such as clinic services, maternal child health, immunizations, communicable disease, and school health.
When asked if her gender could have possibly affected her career choices, Edwyna said no but shared, "back then, women felt they had three choices: earn an education to become a teacher, enter business school to become a secretary, or go to college to be a nurse."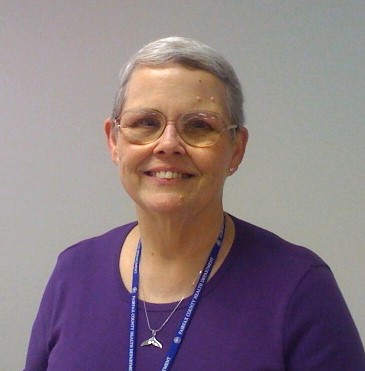 However, Edwyna said she knew she wanted to be a nurse from an early age, most likely the result of an aunt who left her nursing books at Edwyna's house when she was a child.
"Before the age of 8, I knew where babies came from," shared Edwyna. "I also had an opportunity to volunteer as an aide at UVA hospital during summers as a teenager and this gave me an introduction to patients who were truly sick."
"And it didn't change my mind," Edwyna said while laughing.
Edwyna earned her BSN from UVA's nursing school and very soon after, took a nursing position at UVA hospital. But according to Edwyna, the schedule was grueling. She'd work days, go home to nap, and return the same evening for her night shift. While she loved working with patients, she also learned that she loved teaching others about their health and decided to give public health nursing a try.
Edwyna soon realized that she had found her calling. In public health, she could care for patients and teach them how to stay healthy.
"Back then, a lot of our communicable disease outbreaks were because of diseases that spread easily among children, like polio, measles, chicken pox, rubella, and whooping cough," shared Edwyna. "Even though there was a vaccine, polio was still prevalent. As a child, I lived through measles, I got chicken pox and rubeola in the first grade, I got the German measles (rubella)… Children got very sick and some even died. I remember it all too well."
"Immunizations were a big part of our program and still are today," said Edwyna. "I saw how devastating these diseases can be and I'm afraid it can happen again. When I hear people say that vaccines aren't important, it bothers me not only as a nurse but as a human. I remind them that vaccines have been tested and they are safe. They ensure children can stay healthy and grow up to become adults without the lasting effects of a preventable disease."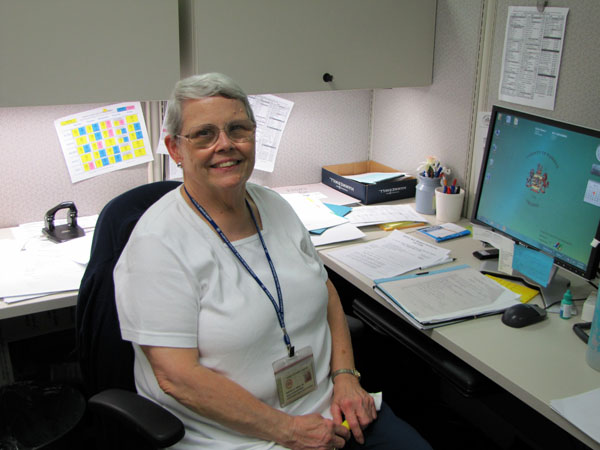 Edwyna's advice to young women is to take advantage of the opportunities that come along. Know your strengths and weaknesses, seek guidance, and ask for help from people who are experienced in their chosen field, whether it's nursing or engineering. These guiding principles worked well for Edwyna and her 58 years in public health. When asked if she has plans to hang up her nursing shoes any time soon, she laughed and said "I've never worked a day in my life. This is my calling and all I ever wanted to do."
This story is shared in honor of National Women's History Month. The National Women's History Alliance, which spearheaded the movement for March being declared National Women's History Month, declared the theme for 2023 as "Celebrating Women Who Tell Our Stories." 
Contact Name
Lucy Caldwell
Contact Information
Public Information Officer
Phone: 703-246-8635
lucy.caldwell@fairfaxcounty.gov