Coincides with a surge in West Nile Virus activity within the mosquito population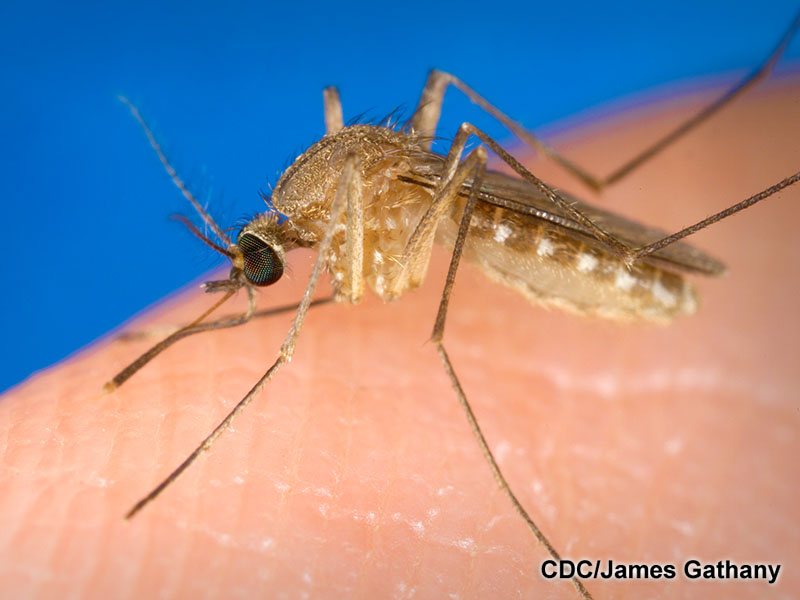 The Fairfax County Health Department has identified the first reported human case of West Nile Virus (WNV) disease in 2018. The patient, an adult resident of the Northeastern part of the county, was hospitalized and is recovering from the illness.
This case coincides with a large increase in WNV infected mosquitoes across the county; an increase that has occurred earlier this summer compared with previous years. In recent years, when one human case occurs in an area, other cases often follow in the same part of the county.
West Nile virus is spread by the bite of an infected mosquito, said Dr. Benjamin Schwartz, Director of Epidemiology and Population Health. With high levels of WNV in mosquitoes and the recent rains leading to even more mosquitoes, it's important for residents of Fairfax County to take precautions to protect themselves and their families.
The best way to avoid mosquito bites is to:
Use a mosquito repellent that contains DEET, picaridin, IR3535 or Oil of Lemon Eucalyptus, making sure to follow label instructions.
Wear long pants and long sleeves to cover exposed skin.
Avoid areas where mosquitoes are especially common during peak biting times, particularly at dawn and dusk.
In addition to preventing mosquito bites, everyone should take steps to reduce breeding of mosquitoes on their property and in their community, said Pieter Sheehan, Director of Environmental Health. This includes tipping and tossing anything that holds water including old tires, buckets, planters, toys, birdbaths, flowerpots, tarps, trash containers, downspout extensions and other containers.
If you cannot get rid of the standing water, put larvicide, such as Mosquito Dunks, in the water to kill developing mosquitoes. Be sure to read the instructions on the label.
You may request a mosquito inspection of your yard from the Health Department's Disease Carrying Insects Program at 703-246-8931, TTY 711.
WNV can affect a person's nervous system. Many people get a mild form, experiencing fever, headache and muscle aches that can last days to weeks. While most people make a full recovery, severe cases of WNV can lead to meningitis, encephalitis, paralysis and even death. Recovery from severe WNV can take months or years.
People at highest risk for serious WNV disease are adults 50-years-old or older and those whose immunity is suppressed because of a disease such as cancer or diabetes. Anyone experiencing symptoms such as high fever, severe headache, stiff neck, confusion and lethargy should seek medical attention right away.
The Health Department uses an integrated approach to mosquito management to minimize the risk of human disease, including:
Educating the public about ways to reduce their risk of WNV.
Setting traps to collect, identify and test adult mosquitoes throughout the county from May through October.
Investigating human cases of mosquito-borne disease.
Responding to requests from homeowners for help with mosquitoes on their property.
Performing routine mosquito inspections and treatments of stormwater ponds throughout the county.
Conducting targeted adult mosquito control activities, such as applying insecticides, to protect public health.
For more information on mosquito bite prevention, or to report a mosquito problem, visit https://www.fairfaxcounty.gov/health/fightthebite, call 703-246-8931, TTY 711, or email fightthebite@fairfaxcounty.gov.
Contact Name
John Silcox, Public Safety Information Officer