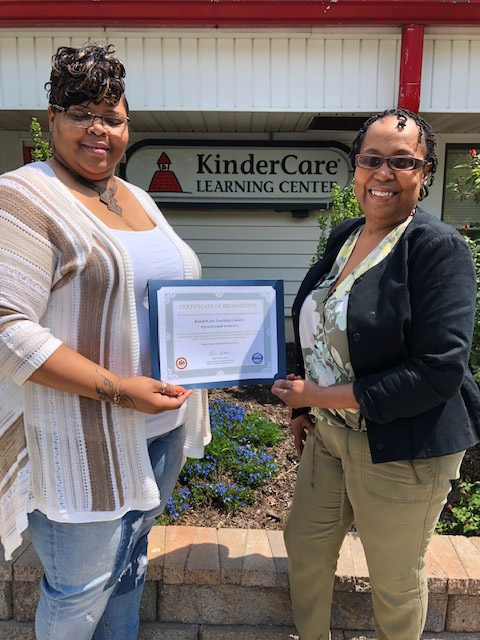 Two KinderCare Learning Centers are getting kudos from the Fairfax County Health Department for their compliance with state immunization requirements as part of National Infant Immunization Week 2019.
National Infant Immunization Week (NIIW) – occurring this year from April 27-May 4 – is an annual observance to promote the benefits of immunizations and to improve the health of children two years old or younger.  Since 1994, hundreds of communities across the United States have joined together to recognize the critical role vaccination play in protecting the health of our children, families, and communities from infectious diseases, such as whooping cough and measles.
"It's easy to think of these as diseases of the past. However, the truth is they still exist," says Christine Carlock, RN, the Health Department's Immunization Action Plan Coordinator. "Children in the United States can — and do — still get some of these diseases. One unfortunate reminder of that is the increase in measles cases and outbreaks happening in different parts of the country right now."
KinderCare Learning Centers provide child care and early childhood educational programs for children from six weeks to 12 years old. The Franconia site (6323 Grovedale Drive) and the Buckman Road site (4287 Buckman Road) were recognized for "their ongoing commitment to assuring infants and children comply with state immunization requirements, and for their overall contributions to protecting the health and well-being of children in our community."
"This recognition lets families and the community know that we at KinderCare truly care about our children," says Stephanie Savoy, Director of the Buckman location (pictured above left). "We have a responsibility to be sure our kids receive the vaccinations they need — especially now with measles in the news."
In celebration of NIIW, the Health Department is giving immunization schedules to the parents of infants who are immunized in our clinics this week. Carlock performed a puppet show at United Community Ministries Early Learning Center, 2709 Popkins Lane, Alexandria, as a fun way for kids there to learn about the importance of immunizations.
"Vaccination is a shared responsibility. Families, healthcare professionals, and public health officials must work together to help protect the entire community," Carlock says.
We commend KinderCare, United Community Ministries and the other businesses, community-based organizations and service groups who are making a significant contribution toward improving public health through their work in childhood vaccinations."
For more information on the immunization services available at the Fairfax County Health Department, visit https://www.fairfaxcounty.gov/health/immunization.
For more information on NIIW, go to www.cdc.gov/vaccines/events/niiw.
Contact Name
John Silcox, Communications Director
Contact Information
john.silcox@fairfaxcounty.gov
703-246-8635 , TTY 711