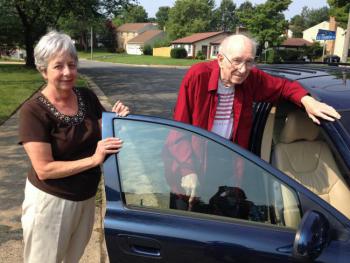 My volunteer journey began a long time ago. I was born in the 1940s, I was a child in the 1950s, a student in the 1960s, a wife and mother in the 1970s, and re-entered the work force in the 1980s. During all that time volunteering has been a big part of my life.
I come from a military family. We moved about every two years. That gave me the unique opportunity to see the world through very young eyes. As a child I became a Girl Scout, beginning in Arlington. There's a line in the Girl Scout promise that says "to help people". This was my first exposure to that concept; it has stayed with me since. As a military dependent I also understood service — after all, the word military is often followed by the word "service".
A child of the 1950s
The first time I remember volunteering was when we were stationed in the Philippines. I was 13 and wanted something to do. I volunteered with an organization on base that provided household goods for families. The group was tasked with assisting young families who could not bring necessary items from home – particularly toys and baby equipment. I helped in the office and met many families that received things directly from us. I continued with this organization when we rotated to the next assignment — Suitland, MD.
A 1960s Student
I graduated from high school in Wiesbaden, Germany — another station. I then attended Ithaca College in New York and earned a degree in Speech Pathology and Audiology. I belonged to a social fraternity that provided free speech therapy to children in the community. Again this was direct service which made a difference in the lives we touched.
A 1970s Wife and Mother, and Beyond
So much happened in my life in the 1970s — two daughters and several moves finally brought me to Virginia, first to Reston and then Herndon. I did the typical "mom" things — room mother, reading volunteer, Girl Scout volunteer for my older daughter's troop. Let me tell you how I became a Girl Scout leader. My younger daughter wanted to be a Girl Scout. However, there was no leader for her troop. As many others also did, I raised my hand! Thus my Girl Scout journey as an adult began.
My most rewarding position was as troop adviser for Senior Girl Scouts — high school aged. I had a Senior troop for 18 years. Over those years I had the pleasure of working with over 60 girls. These young women entered the troop not knowing what they wanted to do. When they graduated, they were focused and strong young women who could take on the world. Several of them have returned to become leaders themselves. That's what motivated me to continue my volunteer journey with Girl Scouts.
My Mother's Story
My widowed mother had macular degeneration late in life. MD is a progressive loss of focal vision which leads to blindness. She struggled with it for years but finally admitted that she could no longer drive. Loss of independence was a real issue for her. My brother and I became her wheels, transporting her where she needed to go. At the end of her life she contracted lung cancer and subsequently died in 2002. She once told me, "I'd rather have cancer than macular degeneration." This broke my heart to know that her independence was so important to her.
Retirement and the Road Ahead
In 2013 I heard about a newly forming group, Herndon Village Network, planned to help seniors age in their community. This concept intrigued me since my experience with my mother had made me aware of how the elderly think about independence. Again, I raised my hand.
For three years, Herndon Village Network has provided free rides to our members, 55 and older and older who live in zip code 20170. We are an all-volunteer group but make a huge impact in the lives of our members. As Board President I am tasked with making the non-profit a viable option for our members going forward. After all, I might need a ride one day.
Our drivers may be the only person that a member sees that day. Members value each ride and are appreciative of us. We don't do it for fame or fortune but for the "thank you" at the end of the ride.
Atul Gawande in Being Mortal states: "All we ask is to be allowed to remain the writers of our own story. That story is every changing…. But whatever happens, we want to retain the freedom to shape our lives in ways consistent with our character and loyalties."
This is my story. Yours is different but we're all making the world just a little better — one volunteer opportunity at a time.
Want to join Penny? Find out more information about the Herndon Village Network. Want to start a Village in your community? Then contact contact N2N@fairfaxcounty.gov to get started.