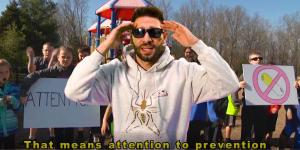 Who's heard of West Nile Virus? //You might not realize it // but it's inside of mosquitoes // and they can spread it to people.
That's just a taste of MC Bugg-Z's newest public health hip-hop anthem for the summer, "West Nile Story." The Fairfax County Health Department is using the music video to raise awareness about West Nile virus and the mosquitoes that spread it. Environmental Health Specialist Andy Lima (aka "MC Bugg-Z") was also behind the catchy raps, "Tick Check 1-2" in 2018 and "Zika 101" in 2016. This time around Lima is joined by students from Virginia Run Elementary and some Fairfax County Fire & Rescue and Fairfax County Police Department officers to help share his mosquito bite prevention message.
According to the CDC, the number of disease cases from tick, mosquito, and flea bites has more than tripled in the United States between 2004 and 2016. West Nile is the most frequently reported mosquito-borne disease in the U.S., and it is found every year in mosquitoes in Fairfax County. From 2002 through 2018, there have been 61 human cases and 6 deaths reported in Fairfax County.
The milder West Nile virus disease symptoms include fever, rash, aches and weakness. People over 60 have the highest risk of severe, neuroinvasive West Nile virus, which can bring on encephalitis and meningitis and even lead to death. There is no vaccine or specific treatment available, so preventing mosquito bites is key. Using EPA-approved insect repellent, wearing light, loose clothing, and tipping and tossing containers weekly so mosquitoes cannot breed are some important ways you can prevent mosquito-borne diseases.
So be like MC Bugg-Z and…
Cover up // rock repellent // get rid of standing water // mosquito bites can be more than just a bother.
"West Nile Story" was produced by Fairfax County Government's Channel 16 and is available for viewing at www.fairfaxcounty.gov/health or on YouTube.
Contact Name
John Silcox, Communications Director
Contact Information
john.silcox@fairfaxcounty.gov
703-246-8635, TTY 711