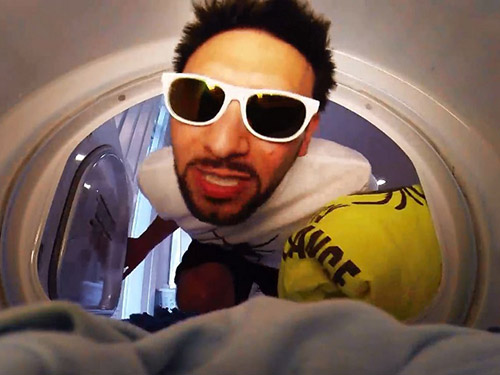 MC Bugg-Z is back, and this time he's using his rhymes to target Lyme.
In an effort to educate the public about Lyme disease and other tick-borne illnesses, the Health Department has released the music video "Tick Check 1-2." The three-minute song, written and performed by Environmental Health Specialist Andy Lima (aka "MC Bugg-Z"), details ways to avoid ticks, particularly blacklegged ticks which can spread Lyme disease. Lima was also behind the catchy "Zika 101" rap in 2016.
The videos are an example of how the department is using new outreach methods to motivate and empower people to improve their health.
The number of illnesses from tick, mosquito, and flea bites has more than tripled in the United States between 2004 and 2016. Of the tickborne illnesses, Lyme disease is the most commonly reported in Virginia and throughout the U.S. There were 214 human cases reported in Fairfax County in 2016 and 178 cases in 2017. Many more cases go unreported every year because people don't see a doctor or don't get tested.
As the latest video highlights, there are simple steps residents can take against the tiny bloodsuckers:
Avoid wooded and brushy areas with high grass and leaf litter, and walk in the center of trails. Maintain a tick-free yard by keeping grass mowed.
Use repellent that is proven to be safe and effective at keeping ticks away: DEET, picaridin, or IR3535 on exposed skin for protection that lasts several hours. Use products that contain 0.5% permethrin on clothing and gear, such as boots, pants, socks and tents. Always follow label instructions.
Bathe or shower as soon as possible after coming indoors (preferably within two hours) and conduct a full body check to find ticks that may be crawling on you. Carefully remove ticks you find with fine-tipped tweezers.
Seek medical attention if you have symptoms such as fever, headache, fatigue and rash and have had a tick bite, live in an area known for Lyme disease, or have recently traveled to an area where Lyme disease occurs.
"Tick Check 1-2" was produced by Fairfax County Government's Channel 16 and is available for viewing at www.fairfaxcounty.gov/health or on YouTube.
Contact Name
John Silcox, Public Safety Information Officer