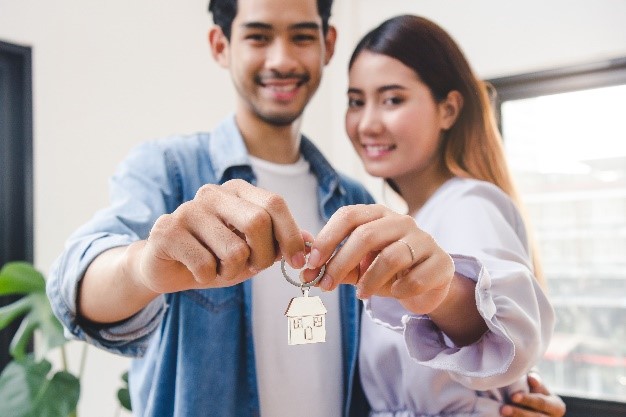 Are you earning too much to participate in First-time Homebuyers programs, and too little to effectively afford market-rate homes for sale in Fairfax County? If so, allow us to introduce the Workforce Dwelling Unit Homebuyer Program (WDU Homebuyer Program)!
Similar to its sister program – the First-Time Homebuyers Program – the WDU Homebuyer Program provides a means for qualified prospective homebuyers earning up to 120 percent of the Area Median Income (AMI)* to purchase a home at below market prices. This is a critical program which serves to close the housing gap for those who may not qualify for low-income assistance, but who still need help in getting a foothold in our challenging housing market. The program is provided by the Fairfax County Redevelopment and Housing Authority (FCHRA) which has been serving qualified homeowners achieve their dreams of homeownership for more than 40 years.
"A home is the single most important foundational asset when it comes to building personal wealth and financial stability," said Tom Fleetwood, Director of the Fairfax County Department of Housing and Community Development which serves the FCRHA. "Our homeownership programs provide qualified homebuyers access to for-sale homes at below-market prices; avenues for down payment assistance, lower interest rates, and reduced mortgage principal; and pre- and post-purchase counseling."
Just as with any meaningful holiday gift or present, homeownership requires preparation, forethought, and commitment. For many potential homebuyers – particularly those who may not necessarily feel they fit the designation of "low-income households" – it may be worth taking a few minutes to see what doors the WDU Homeownership Program may be able to open. 
"Finding some free time during the holidays to review the orientation materials and become familiar with our WDU Homebuyer Program, can mark the beginning of an incredible journey that many may not have supposed to be possible," recommended Carol Erhard, Director of Homeownership programs. "Several WDU developments are in the pipeline and some units are available now. We want to help prospective homeowners prepare and be ready to achieve their homeownership goals."
Since January 1, 2021, 50 homes have been sold through Fairfax County homebuyer programs (with 39 closings and 11 homes under contract). Homes sold from the WDU program typically range from $250,000 to the high $400,000s.

Prospective homebuyers must complete a five-step process to complete their application and receive their certification to participate in property drawings. The process begins with two educational courses – an overview of the county's WDU Homebuyer Program (available online) and a homebuyer education course offered by Virginia Housing (both in-person and online options are available). These homeownership education courses provide guidance from industry experts and certified housing counselors on topics leading up to and following the actual purchase of a new home. Topics include improving credit scores, developing a personal budget, working with lenders, understanding homeowners' or condominium associations, and maintaining or increasing their home's value through regular home maintenance. 
Get Started Today!
If you are ready to start your journey into homeownership, begin the process today by visiting our program website at www.fairfaxcounty.gov/housing/homeownership/wduhomebuyers. The site will provide you with a general overview of the program/application process; step-by-step instructions to guide you through the process; and the chance to view some of our current listings available through each program.

*For a family of four, 120 percent of AMI is $154,800 per year in total household income. For a complete listing of income limits for this program (based on household size), please visit the WDU Homeownership Program webpage.