Welcome to the Winter Solstice 2021. While the night of December 21 is the longest night of the year, the day is nationally recognized in remembrance for the thousands of Americans experiencing homelessness and for strengthening our resolve to becoming a community where everyone who needs a place to call home can have a place to call home.
"At this time of year, one of the most common themes is that of service and looking out for neighbors in need," said Tom Barnett, Deputy Director of the Fairfax County Office to Prevent and End Homelessness, a part of the Department of Housing and Community Development. "It is our hope that – particularly on this 'longest night'– we can remind those who are without shelter that help is available."
In Fairfax County, each winter, more than 1,000 of our neighbors are in need of shelter from the harsh and life-threatening winter weather. The Fairfax County Hypothermia Prevention Program provides warm shelter, food, and other supportive services to connect those experiencing homelessness with a variety of basic needs – including clothing, employment, housing, and more.
 
What Can I do if I See Someone in Need of Shelter?
Anyone who sees someone who appears to be unsheltered can easily call the Department of Public Safety Communications nonemergency phone number – 703-691-2131. Public safety personnel will respond to conduct a wellness check and assist the individual in connecting with appropriate services to help address their needs.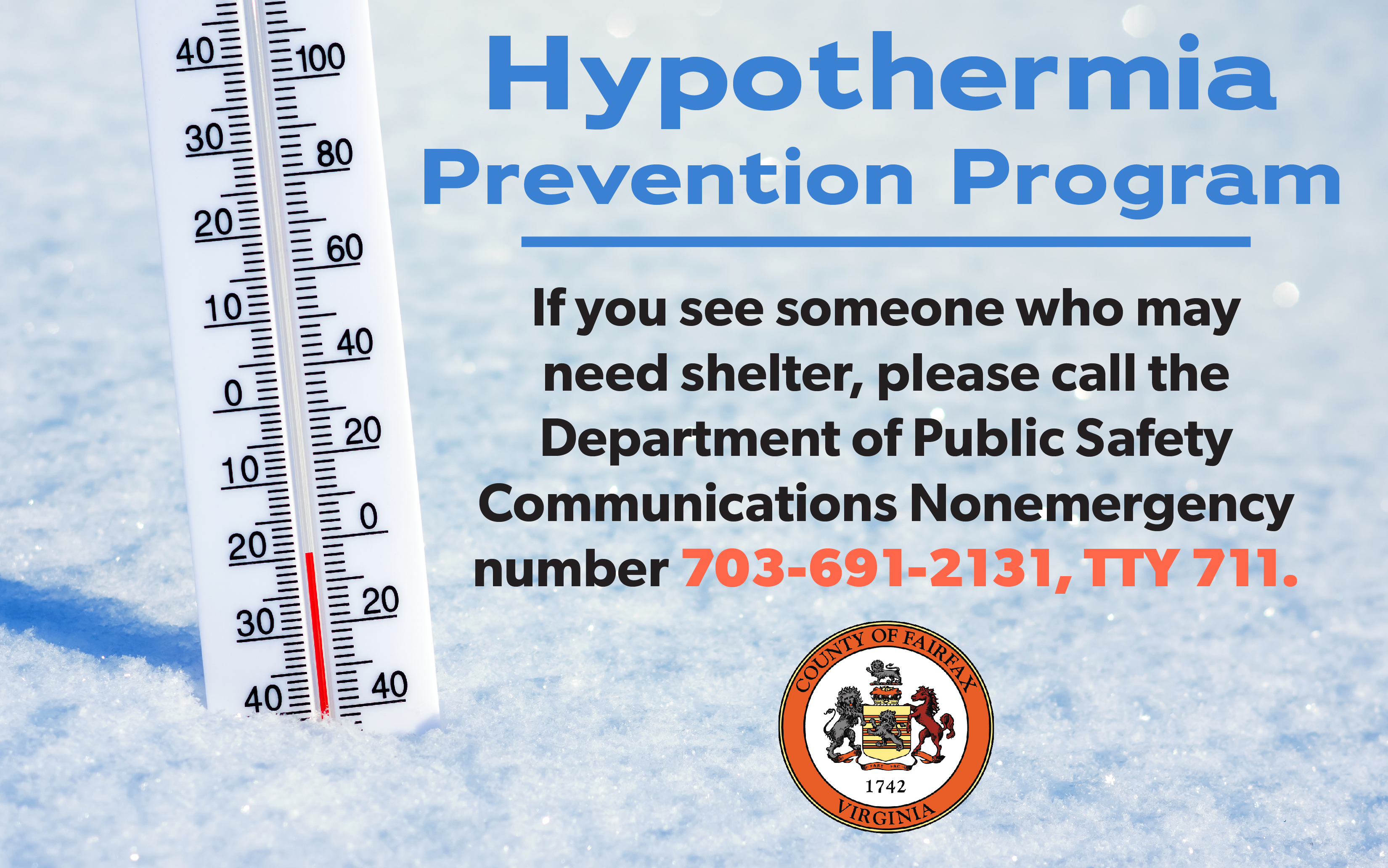 Where can I go if I have Nowhere Else to Go?
Individual adults in need of immediate shelter, food, and other supportive services may contact or visit any of the following locations (note that some locations may have limited hours of operation):
Eleanor Kennedy Shelter (24/7) - 9155 Richmond Highway, Fort Belvoir - 703-799-0200 
Rising Hope United Methodist Mission Church (6:30 p.m. to 7 a.m.) - 8220 Russel Road, Alexandria - Contact sedelkamp@yahoo.com
Embry Rucker Community Shelter (24/7) - 11975 Bowman Towne Drive, Reston - 703-437-1975 
North County Human Services Center (5 p.m. to 7 a.m.) - 1850 Cameron Glen Drive, Reston - Contact milton.rodriguez@cornerstonesva.org or missy.norquest@cornerstonesva.org 
Bailey's Shelter and Supportive Housing (24/7) - 5914 Seminary Road, Falls Church - 703-820-7621 
Friends of Falls Church Winter Shelter (6 p.m. to 8 a.m.) - For referrals, contact KStanley@NewHopeHousing.org or LHyman@NewHopeHousing.org 
Rotating Faith Community Sites in Falls Church and Alexandria - Call 703-820-7621 
Rotating Faith Community Sites in Fairfax and Centreville - Call 703-352-5090 
 
Adults with children (ages 0-17) should contact Coordinated Services Planning at 703-222-0880 (TTY 711), Monday through Friday, from 8:00 am to 4:40 pm for referrals to family-oriented support and services. If you need assistance after hours, please contact or visit one of the county's family shelters:
Katherine K. Hanley Family Shelter - 12970 Katherine Hanley Court, Fairfax, VA 22030 - 571-522-6800, TTY 703-988-0256 
Embry Rucker Community Shelter - 11975 Bowman Towne Drive, Reston, VA 20190 - 703-437-1975, TTY 711 
Patrick Henry Family Shelter - 3080 Patrick Henry Drive, Falls Church, VA 22044 - 703-536-2155, TTY 711
Print and Share the Hypothermia Prevention Program flyer.