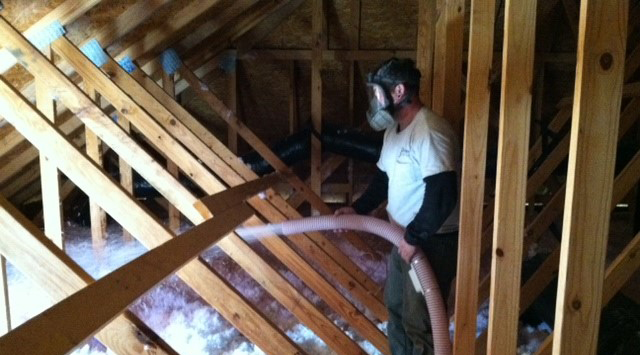 This information is the most common for how to comply with the energy conservation requirements for your new home, addition or sunroom and is not representative of all the conditions you may encounter.
DEFINITIONS
Consider the following definitions when complying with the energy conservation requirements of the Virginia Residential Code.
A conditioned space is an area within a building that is heated or cooled or has a fixed opening (no door or closable window) to an area that is heated or cooled.
A basement wall is more than 50 percent below grade and encloses a conditioned space.
Glazing is windows, skylights and glass doors.
An R-value is a measurement of a material's thermal resistance (the higher, the better).
A U-factor measures the ability of a material (glass) or assembly (window) to transfer heat (the lower the better).
A sunroom must meet all of the following conditions:

One-story structure added to an existing home.
Glazing area exceeds 40 percent of the exterior walls and roof area.
Sunroom is served by separate and independently-controlled heating and/or cooling system.
Closeable doors and windows separate the sunroom from the rest of the house.
DESIGN VALUES
The table below provides the R-value and U-factor requirements for insulation and glazing, respectively. Higher insulation R-values are permitted provided their dimensions properly fit in the intended cavity without compacting its thickness. Glazing with lower U-factors than required are also permitted. 
Minimum R-Values for Walls/Floors/Ceilings
| Element | New Home, Addition | Sunroom |
| --- | --- | --- |
| Ceilings | 382 | 19 |
| Walls (wood framed) | 15 | 13 |
| Walls (concrete, CMU) | 8/133 | 8/133 |
| Floors | 19 | 19 |
| Basement Walls | 10/134 | 10/134 |
| Slab-on-grade5 | 10 | 10 |
| Crawl Space Walls6 | 10/132 | 10/132 |
Maximum U-Factors for Glazing
| Element | New Home, Addition | Sunroom |
| --- | --- | --- |
| Window1 | 0.35 | 0.45 |
| Doors1 | 0.35 | 0.45 |
| Skylights1 | 0.35 | 0.70 |
1 Windows, doors and skylights shall have a maximum solar heat gain coefficient (SHGC) of 0.40.
2 R-30 can be substituted for R-38 with a raised heel or energy truss where the full height of the insulation is maintained over the entire ceiling footprint and the exterior wall. See figure below.
3 Use R-8 when insulation is applied to the exterior; use R-13 when insulation is applied on the interior.
4 Use R-10 when applied continuously against the wall; use R-13 when applied between studs or furring strips.
5 Insulation must extend from the slab edge to a length of 24 inches vertically and/or horizontally; see figure below.
6 Use insulation on crawl space walls in unvented-conditioned crawl spaces with no floor insulation above.