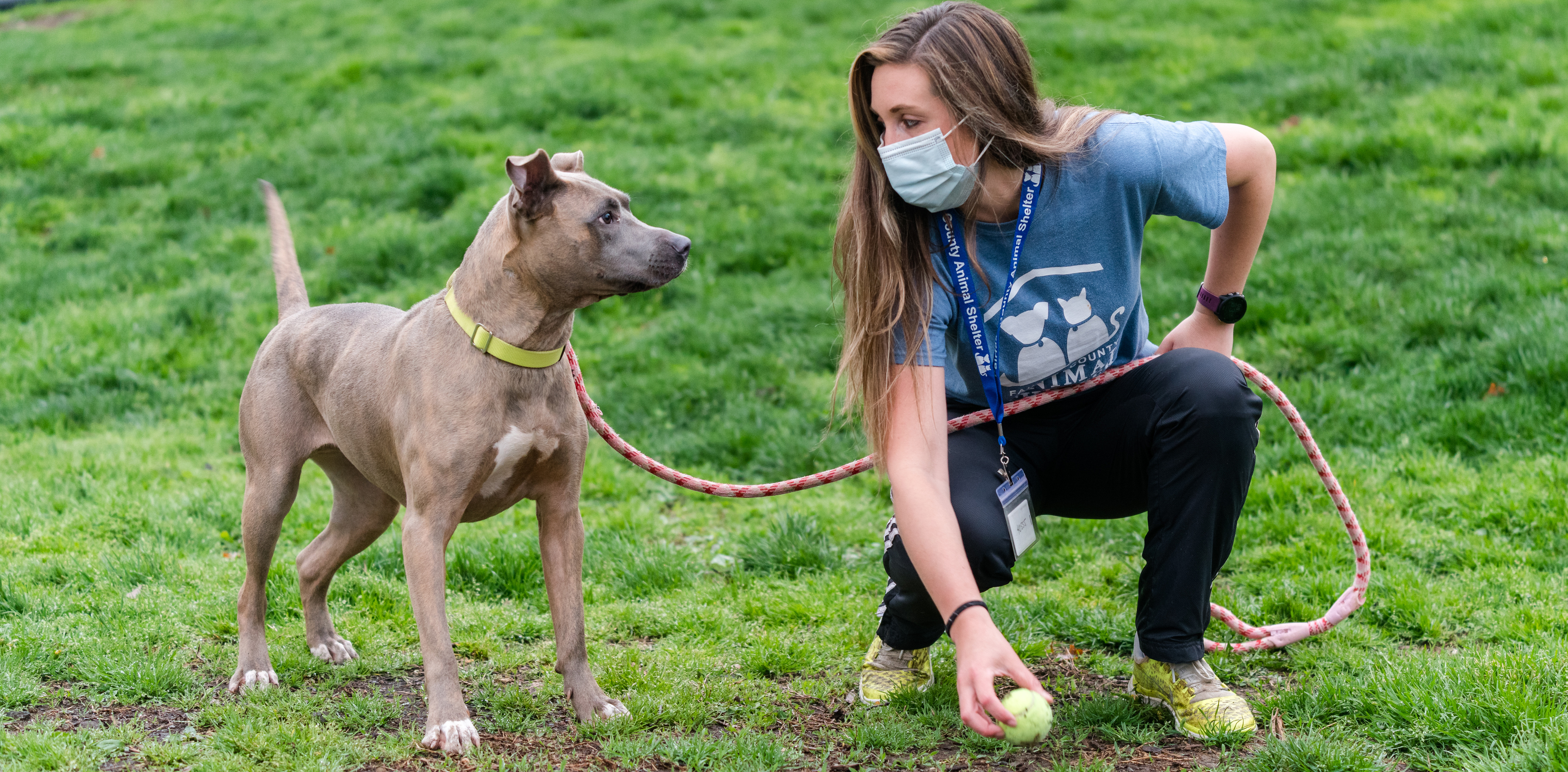 Use our local community resources to help care for furry friends.
---
By Alana Quarles, Assistant Branch Manager, Centreville Regional Library
---
Rest and Relaxation for Shelter Animals
More than 4,000 animals enter the Fairfax County Animal Shelter (FCAS) each year, and hundreds of them are lucky enough to receive the care of foster families. Fostering animals can present its challenges, but it's a rewarding experience that benefits both the animals and FCAS.
Whether providing temporary relief from the shelter environment, working on obedience training, increasing socialization, or caring for animals recovering from a medical procedure or illness, foster homes providing a quiet place to rest and recover can make a huge difference for these animals in need. For more information on fostering, visit fairfaxcounty.gov/animalshelter/foster.
Adoption and Volunteer Opportunities
If you're looking for a more long-term relationship with a four-legged friend, use the FCAS virtual adoption process to find your perfect pet match and give one of their available animals a good home. Learn more at fairfaxcounty.gov/animalshelter/adopt. 
Unable to welcome a furry companion into your home? Bring your love and care to them! During normal operation, volunteer opportunities are available at many local shelters. Stay tuned to 
fairfaxcounty.gov/animalshelter/volunteer for updates when they start onboarding in-house volunteers again. 
Health Benefits of Pets
From lifelong companionship to weekend fostering, caring for animals in our community not only provides an important service but also offers many personal benefits — both mental and physical. According to the Center for Disease Control and Prevention's Healthy Pets, Healthy People resources, studies have shown that the bond between pets and people can decrease stress levels, lower blood pressure and cholesterol, increase socialization and fitness, help manage depression, and teach children compassion and responsibility. 
Training and Pet Care Resources
Fostering a shelter animal or bringing home a new pet and looking for some guidance? FCPL has you covered. The library's collection includes a range of pet care and training resources in print and digital formats. From dogs and cats to hedgehogs and more, you can find a wealth of information to support you and your animals through the library. We recommend starting with these titles:
Dog Training for Dummies by Wendy Volhard and Mary Ann Rombold-Zeigenfuse, L.V.T.
Fetch! : A How to Speak Dog Training Guide by Aubre Andrus and Gary Weitzman, D.V.M.
Pounce! : A How to Speak Cat Training Guide by Tracey West and Gary Weitzman, D.V.M.
Low-Cost Veterinary Care
Pet owners in need of financial assistance due to unexpected and expensive care can find low-cost vet clinic services, financial assistance for urgent and non-routine pet medical care, spay/neuter resources, and affordable pet vaccination clinics on Fairfax County's Pet Resources page at fairfaxcounty.gov/animalshelter/petresources.  
Other organizations offering financial assistance to pet owners include:
A nonprofit agency that aids families struggling financially to pay for vet care.     
This organization assists when your pet needs financial help for "extraordinary" veterinary expenses to save their life.     
A group that gives financial aid for major illnesses and emergency veterinary care.     
The group provides assistance for dogs fighting cancer.     
A nonprofit group that aids families whose dogs and cats are in need of non-routine veterinary care.     
This organization helps financially for dogs and cats with urgent veterinary needs.     
A nonprofit group that provides assistance to pets in need of veterinary care for cancer treatment, heart disease and other non-basic or emergency care.     
This nonprofit organization offers grant money so pet caregivers can afford urgent and emergency vet treatment for pets.