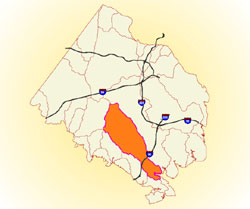 Location
Pohick Creek is a 36.5-square-mile watershed in the central southern portion of Fairfax County and drains southeastward directly to the Potomac River through Gunston Cove.
Major Streams and Tributaries
Major tributaries to Pohick Creek are Rabbit Branch, Opossum Branch, Sideburn Branch, South Run and Middle Run.
Unique Features
Several lakes exist within the Pohick Creek watershed. The largest, Burke Lake, is located on South Run and was created for recreational uses. There are six lakes in the watershed that were constructed between 1970 and 1985 as part of a joint effort between the U.S. Department of Agriculture's Soil Conservation Service, Fairfax County and the Northern Virginia Soil and Water Conservation District. These impoundments (Lake Braddock, Lake Barton, Lake Mercer, Lake Royal, Huntsman Lake and Woodglen Lake) were designed as flood prevention and watershed protection structures. Over two square miles of the watershed are not under the jurisdiction of Fairfax County, lying within the U.S. Army's Fort Belvoir Military Reservation. The Laurel Hill property (formerly the District of Columbia's Lorton Correctional Facility) also lies partly within the watershed. The Noman M. Cole Pollution Control Plant, which treats a large majority of the county's wastewater, lies at the lower stretches of Pohick Creek. The watershed also contains several sites of historic importance.