Fairfax County's Municipal Separate Storm Sewer System (MS4) permit requires the county to implement an illicit discharge and improper disposal (IDID) program. The purpose of the IDID program is to prohibit any individual non-stormwater discharge that is contributing a significant amount of pollutants to the county MS4 and to state waters. The MS4 (also known as the storm drainage system) was designed to convey runoff from rain and snowmelt from the land to surface waters such as streams and rivers. Material that enters Fairfax County's MS4 does not go to a wastewater treatment plant. Therefore, chemicals and waste materials must not be disposed of in the MS4.
The county has three proactive programs to help identify and eliminate IDIDs. These programs include Dry Weather Screening, Wet Weather Screening and Industrial and High Risk Runoff. These programs test the quality of water that flows out of the MS4 system. The Dry Weather Screening program consists of screening 100 outfalls a year during dry weather conditions to check for pollutants. The Wet Weather Screening program entails monitoring outfalls during a rain event to find potential pollutants. Any outfalls with significant pollutants are referred to the IDID program investigators for further action.
What is an IDID?
Fairfax County defines an IDID as the intentional or unintentional release of non-stormwater materials that may enter the storm drainage system, streams or ponds by dumping, pouring, throwing, spilling, abandoning, negligent storage or through an illicit connection. Fairfax County defines an illicit connection as a pipe that is improperly connected to the storm drainage system and transports non-stormwater materials into a storm drainage system. For example, sometimes a sanitary sewer or wastewater pipe is improperly connected to an open channel or stream and transports non-stormwater materials directly to a body of water.
Some discharges are not considered illicit because they are authorized by the MS4 permit. These include discharges that have a Virginia Pollutant Discharge Elimination System (VPDES) permit as well as some specific discharges that are not considered to be a significant source of pollutants such as dechlorinated swimming pool water and irrigation water.
Examples of IDID
Examples of IDID include, but are not limited to:
Improper disposal of vehicle fluids and toxic wastes including motor oil, household hazardous wastes, and pesticides.
Fats, oils and grease (FOG) from food service establishments.
Inappropriate disposal of grass clippings, leaf litter and pet wastes.
Liquid wastes such as oil, paint, and process wastewater (such as radiator flushing wastewater, plating bath wastewater, etc.).
Salt water and chlorinated swimming pool water.
Gray Water - residential and commercial laundry wastewater, commercial carwash wastewater, fleet washing wastewater and floor washing wastewater.
Sewage and septic tank effluent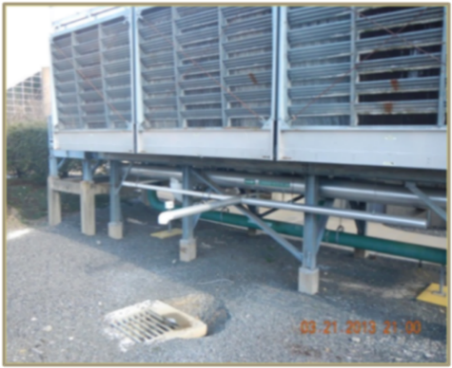 Unpermitted Non-Contact Cooling Tower Discharge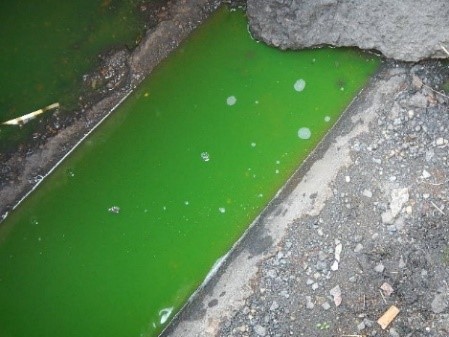 Cleaning Detergents and Chemicals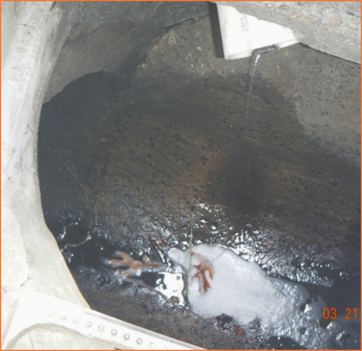 Unpermitted Vehicle Washing Discharge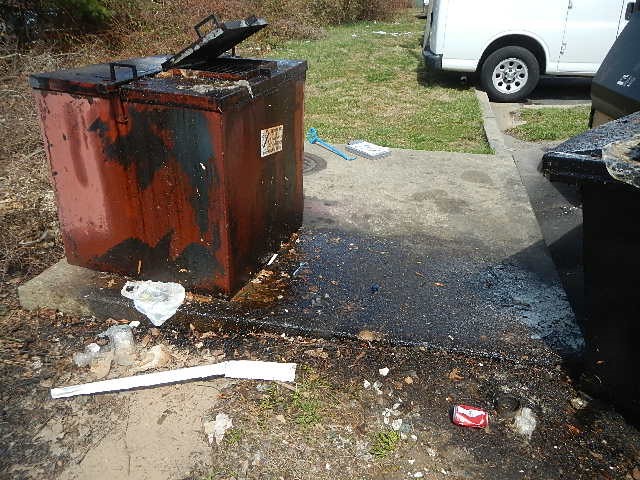 Grease and Litter
How to Report an IDID?
If you are reporting an emergency situation that could result in imminent or substantial danger to the health and safety of persons, call 911.
If reporting a non-emergency (not hazardous or a public health threat) call the police non-emergency number, 703-691-2131.
For all other IDIDs, call the Stormwater Planning Division, 703-324-5500, TTY 711.
When reporting any IDID provide the following information:
What you observed.
Location of the discharge or improper disposal.
Date and time that the discharge/disposal was discovered.
Whether the discharge/disposal is ongoing.
The suspected cause of the discharge/disposal.
Your contact information (Reports may also be made anonymously, however staff will not be able to inform you of the outcome of an investigation.).
Photographs of the incident, if available.
How is the IDID Eliminated?
County staff responds to observations or complaints of illicit discharges by:
Investigating and identifying the source.
Taking steps to ensure the illicit discharge is corrected.
Managing corrective actions.
Educating the business on Best Management Practices (BMPs)/Pollution Prevention.
What about dumping that does not involved the storm drainage system or waterways?
Please report illegal dumpsites to the Department of Code Compliance (DCC) at 703-324-1300, TTY 711. For more information about DCC's handling of illegal dumping reports, please visit DCC's Illegal Dumping website.