March 29, 2023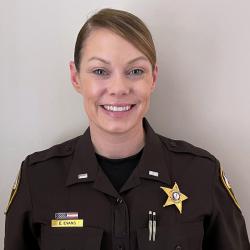 Second Lieutenant Erin Evans, recently promoted to First Lieutenant, will supervise staff assigned to the Circuit Court and Juvenile & Domestic Relations District Court.
Born in New York, Evans earned a bachelor's degree in criminal justice from Hilbert College in Buffalo and applied to the New York City Police Department. During the process, she sustained an injury that prevented her from moving forward. She took it as a sign that joining NYPD was not meant to be.
While recovering, Evans moved to Quantico to be with family stationed there. Through a friend, she heard about the Sheriff's Office and applied to become a deputy. After completing the academy, she spent her first seven years in the Confinement Division where she was a field training instructor, general instructor and booking deputy.
During that time, Evans successfully tried out for our Honor Guard team. She was part of the first all-female team participating in the annual Metropolitan Washington Council of Governments Honor Guard Competition. The team won first place!
In 2014, Evans was transferred to code enforcement (a Sheriff's Office partnership with the Department of Code Compliance) and promoted to sergeant within the year. She spent the next seven years as a supervisor for a confinement squad, inmate transportation and inmate records. During her last assignment in internal affairs, she was promoted to 2nd Lieutenant and then to 1st Lieutenant, which bought her to the Court Services Division.
"I am extremely excited!" she says. "I look forward to the challenge of working in a new section and with new people." She explains that inmate records and internal affairs focused largely on administrative duties. As a lieutenant in Court Services, she will be more focused on her staff.
Lt. Evans has been married to Sergeant Mike Evans for nine years, and they have two boys. When asked how she balances work and family, she explains that work-life balance is a struggle, but her husband understands the demands of the profession and gives her the latitude to fulfill her obligations both at work and at home.
"I am extremely thankful for my husband, my boys and my family for supporting me throughout my career," says Evans. "I wouldn't be where I am today if it weren't for them."