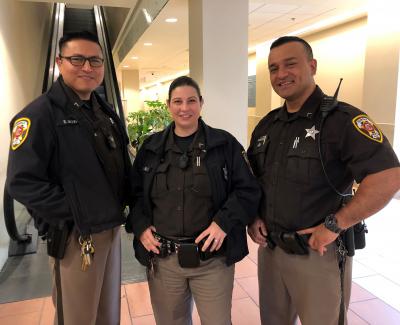 The Sheriff's Office ensures the safety of 35 judges and 42 courtrooms in the Fairfax County Courthouse and the thousands of people who visit the Courthouse each business day. In addition, the Sheriff's Office provides security for courts in the City of Fairfax and the towns of Herndon and Vienna.
Prohibited in the Courthouse
Guns, knives, ammunition, pepper spray, mace, razor blades, illegal drugs.
Any dangerous or hazardous material or property that could be used to injure or harm another person.
If in doubt about an item, leave it at home or in your vehicle. Visitors who bring a potentially dangerous or hazardous item into the Courthouse will be directed to remove it from the building. You cannot leave it with court security.
Screening Procedure
Each visitor who enters the Courthouse goes through a security screening procedure. To speed up the process, visitors should do the following:
Empty pockets and place contents in the container provided.
Place purses, briefcases, backpacks and parcels on the X-ray machine for scanning.
Walk through the metal detector.
If the X-ray or metal detector sets off an alert or alarm, a court security officer may perform another scan, using a hand wand. The security officer may also ask permission to conduct a physical search of the person and personal articles to determine the cause of the alert or alarm. Before proceeding from the security screening area, visitors should retrieve all of their personal possessions.
Courthouse attorneys may submit an application to the Sheriff's Office to BYPASS the security screening.
Portable Electronic Devices
Visitors may use portable electronic devices for audio phone calls inside the Courthouse common areas. However, these devices may not be used in courtrooms for any purpose unless expressly authorized by the presiding judge. Photography, video and audio recording, and/or other audio or video transmission from inside the Courthouse are strictly prohibited without written permission of the court.
Acceptable portable electronic devices include:
Portable personal computers.
Tablet computers.
Mobile phones (including phones with cameras and audio and video recording and transmission capabilities).
Electronic calendars.
E-book readers.
All other cameras, video cameras, video recording equipment and recording devices that are not considered a portable electronic device are prohibited beyond the Courthouse entry area. Prohibited photographic and video recording equipment may be permitted with prior written authorization by an active 19th judicial circuit or district judge.
Jurors and court personnel are subject to additional restrictions and guidelines. View the full court order for more information or call the Fairfax County Circuit Court at 703-691-7320. [TTY 711 for hearing impaired].