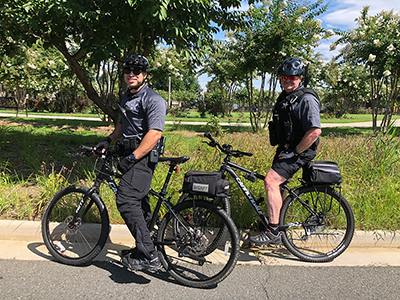 The Sheriff's Office Community Bike Patrol Unit provides patrol services and bike safety demonstrations around the Fairfax County Public Safety Center, at special events and upon request from neighboring jurisdictions. The 12-member team enforces state and county ordinances, provides a security presence, assists residents and visitors, and ensures traffic safety and control.
Bike team members are proficient in riding up and down hills and stairs, navigating off-road terrain and riding in bad weather. Training includes long endurance rides, short rides, obstacle courses, practical-based scenarios, night riding and bike maintenance.
For more information about the Bike Patrol Unit and its availability for community events, please email the Sheriff's Office.
Bike Safety Tips
Before you ride, make sure that everything on your bicycle is working correctly. Get in the habit of checking the brakes, and make sure there are no loose or broken parts on your bike. Reflectors and lights make you and your bicycle more visible to drivers, especially in the dark.
ALWAYS WEAR A HELMET! The best way to protect your head and face is to wear a helmet that properly fits. If you are unsure about which helmet to get, check with your local bike store.
Wear protective glasses, which can stop debris from getting into your eyes.
Wear bright, reflective clothing to make it easier for drivers to see you.
Wear gloves to protect your hands from developing blisters or being injured by debris.
Wear padded shorts and use a comfortable seat to reduce buttock pain.
Stay alert and look out for anything in your way.
Always have plenty of water and food with you while riding.
Always carry emergency contact information, including health alerts, on you or on your bike equipment.