The Sheriff's Office temporarily suspended volunteer- and FCPS-led inmate programs to help prevent the spread of coronavirus (COVID-19). However, we are re-starting some programs using a remote access app.
The Sheriff's Office offers a wide variety of programs for inmates to better themselves during their incarceration and prepare them for future success once they are released from our jail. While some inmates are court-ordered into programs, the majority voluntarily take positive steps toward self-improvement. Most of our programs focus on education and skills development. Inmates can find constructive ways to enhance current skills, learn new skills, redefine their problem solving approaches or just reinforce positive values.
Learn how you can volunteer with inmate programs.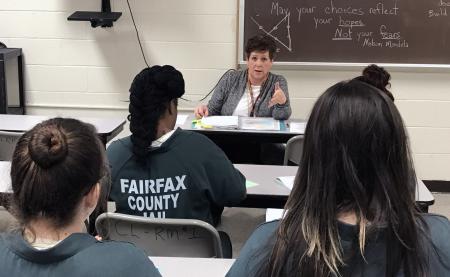 Education
Individuals arrive at the ADC with a wide range of educational levels, from little or no formal schooling to advanced college degrees. Some inmates are unable to read and write, and others come just shy of completing 12th grade. Regardless of their previous educational experiences and learning levels, inmates without a diploma or equivalency are eligible for education programs through our partnership with Fairfax County Public Schools (FCPS).
Inmates who test below a fourth grade proficiency can gain basic literacy skills in a class with an FCPS teacher and/or a volunteer. The goal is to integrate life skills with literacy. For example, math is about managing money; reading focuses on signs, maps and newspapers; and writing helps the learner complete applications and on-the-job paperwork.
Inmates who are 18-21 years of age and enter the ADC with an Individualized Education Program (IEP) can continue to work on their high school diploma through the Interagency Alternative School program.
Without an IEP, inmates of any age and working above a fourth grade proficiency are placed on an academic track to build the skills necessary to pass the GED exam. For inmates whose primary language is Spanish, we offer Pre-GED and GED classes in Spanish.
The GED tests offered inside the ADC are the same as what is available on the outside. Our jail-based education team helps inmates transition to the GED or Alternative School programs on the outside if they are released before attaining their high school credentials.
Skills Development
Inmates may take advantage of a variety of programs to build employability and workplace skills, learn keyboarding and practice financial planning. They can also take part in self-improvement classes and programs that teach responsible parenting, anger management and the impact of crime.
Most life skills classes are conducted by volunteers who come to the Sheriff's Office through partnerships with Opportunities, Alternatives and Resources (OAR), Fairfax County Public Schools, Fairfax-Falls Church Community Services Board and faith-based organizations. OAR's case managers also identify inmates who are within 120 days of release and pair them with services such as housing, job training, transportation and health care. The case managers follow up with them after release to assist them with job placement and other needs.
Resource Fairs
In conjunction with the Fairfax Re-Entry Council, the Sheriff's Office holds two Inmate Resource Fairs every year to help inmates connect with the private and public community resources they will need when they are released from the ADC. More than 20 vendors representing housing, employment, insurance, health care, education and legal resources provide information to the 100 or more inmates who circulate through each fair in small groups throughout the day.
Library
Providing the opportunity for inmates to learn, grow and imagine through literary doorways is the overall goal of the ADC library. The lending library is where books are stored and categorized by genre. The staff librarian and two workforce inmates put selected books on mobile carts and visit every cell block at least once a week for delivery and collection.
Inmates can also participate in a book club facilitated for the men's group by the staff librarian and for the women's group by the chaplain's wife. About a week after books are distributed, the clubs meet to discuss what they have read. At times, club members read the same book. Alternatively, they read different books of the same genre or by the same author and discuss the reoccurring themes or the authors' writing styles. A goal of the book clubs is to give participants the opportunity and encouragement to read something outside of their comfort zone. The book clubs also foster a sense of community and help develop a skillset for having respectful conversations.
Religious Services and Programs
The Chaplain's Office provides and coordinates religious services, classes, programs and mentoring to meet the spiritual needs of a diverse inmate population. Inmates are permitted and encouraged to practice their respective religions, as long as doing so does not intrude upon the rights of others or pose a threat to the order and security of the ADC. Weekly religious services include Protestant worship and Catholic mass – in both English and Spanish – Korean bible study, and Islamic Jumu'ah and Talim.
Recreation
Every day, inmates are offered at least one hour of recreation time in one of 14 designated gyms. Each gym provides an opportunity for individual and group exercise, including volleyball. The two main gyms have cardio rooms with treadmills and other machines to facilitate cardiovascular fitness. Outside gyms are available as weather and staffing permits.
Yoga
In association with the Prison Yoga Project, the ADC offers weekly yoga classes taught by a volunteer who is an experienced yogi. In an assessment of the first seven months of the yoga program, the Sheriff's Office found an 84 percent reduction in the number of jail offenses committed by inmates enrolled in the class and a 77 percent reduction in the number of violators. The classes have been so successful that businesses have donated supplies, including yoga mats and class props, in support of the program.