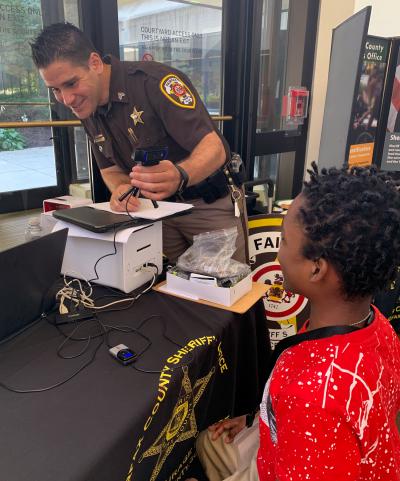 At events all around the county, Sheriff's Deputies and volunteer Reserve Deputies fingerprint, photograph and measure a child; add any demographic information a parent provides; and then produce a plastic ID card for the parent's safekeeping. To protect the privacy of the family, none of the information is retained by the Sheriff's Office. For families in our community, this card could be the key to assisting law enforcement agencies should their child ever become missing. For the children, the process of producing the card offers a fun and positive experience interacting with law enforcement officers.
In 2019, by invitation from community groups and businesses, we attended 114 events and fingerprinted 6,350 children. For more information or to request the services at your community event, please send us an email.
Upcoming Events
We are cautiously re-starting our Child ID program.
Friday, August 28, 2020, 2- 6 p.m.
United Community
Back 2 School Resource Fair
Creekside Village Community Center
7941 Janna Lee Avenue
Alexandria, VA 22306
Please see the flyer for resource fair details.