January 14, 2021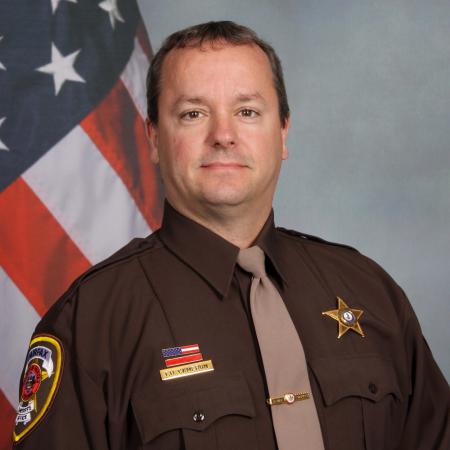 Sergeant Frederick "Butch" Cameron, a 16-year veteran of the Fairfax County Sheriff's Office, died on January 12, 2021 after battling COVID-19 for several weeks. He leaves behind his wife Michelle, children Chuckie and Adrianna, and his mother Zelma. He was preceded in death by his father Frederick Henry Cameron and his brother Allen Ray Cameron.
For the past four years, Butch was assigned to the Facilities Services Section and charged with the cleanliness of the Adult Detention Center. While the remarkable cleanliness of the facility has been well documented by accrediting organizations, the COVID-19 pandemic has made it even more crucial. Butch helped lead the response team that sanitized and sterilized high use and COVID-infected areas and ensured high-touch areas were wiped down daily for the protection of inmates and staff.
Butch's professionalism, good-natured demeanor and attention to detail earned him two special assignments during his career with the Sheriff's Office. He spent three years supporting the Fairfax County Department of Code Compliance, which responds to zoning and building code violations. In addition to serving civil law documents, he ensured the safety of inspectors during the course of their work and also helped explain the County's health, safety and environmental concerns to County residents. His second special assignment was ongoing since 2016. The Sheriff's Command Staff chose him to be the lead facilitator for the agency's security upgrade and capital renewal project due to his extensive background in program management as well as his strong work ethic.
On the personal side, Butch was a Board member for the Virginia Division of Law Enforcement United, a nonprofit organization that honors fallen law enforcement officers and remembers and supports their survivors. He provided security and traffic control for the bike teams during the annual Road to Hope Memorial Bicycle Ride leaving from Chesapeake, Virginia and concluding in Washington, D.C.
Butch was a dedicated fan of Washington football, baseball and hockey through seasons good and bad. He was a long-time season ticket holder for the Washington Football Team and especially enjoyed taking his mother to games.
Known for stepping up whenever and wherever he was needed, Butch was thoughtful and giving. He was an out-of-the-box thinker who would often share innovative solutions to challenging issues.
A lifelong resident of Fairfax County, Sgt. Butch Cameron forever will be missed by his family, friends and colleagues.