June 21, 2019
The Virginia Sheriffs' Institute (VSI) scholarship program provides an opportunity for young people across Virginia to pursue an education in criminal justice. The scholarship is limited to students attending Virginia colleges and universities. The annual application period generally runs from January through April.
Scholarships are available only to students in jurisdictions where sheriffs participate in fundraising efforts, which includes Fairfax County Sheriff Stacey Kincaid.
Scholarship applicants must include a personal essay and a letter of recommendation from their County sheriff. "I speak with each applicant to learn more about their activities and long-term goals," said Kincaid. "It's inspiring to meet young men and women who not only excel academically but also participate in extra-curricular activities and contribute to their community. I wish them continued success in their college careers and beyond."
2019 VSI Scholarship Winners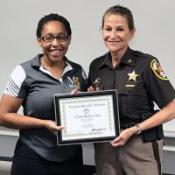 Sesaly Barden is a junior at Mary Baldwin University pursuing a degree in Criminal Justice. She is focused on Criminal Justice Administration to enhance her leadership skills and promote change in her community. Sesaly is a member of the Virginia Women's Institute for Leadership, an all-female ROTC program, and is commander of its drill team. She also serves on the Conduct Committee. Through this program, she will graduate with a minor in Leadership.
When she is home from school, Sesaly works at Jersey Mike's Subs to support her education and volunteers with her former high school's JROTC program and her family's church.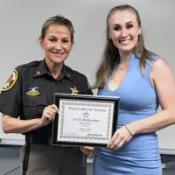 Olivia Ernest will complete her degree in Psychology with a minor in Criminal Justice this fall at Virginia Commonwealth University and then continue to a master's program in Counseling Psychology. Her goal is to become a prison psychologist.  She wants to make a difference by working with inmates to address their issues and improve systems already in place.
For the past three years, Olivia studied at Appalachian State University where she was in the Department of Psychology Honors Program and was a recipient of the Dr. Frank R. Terrant Memorial Scholarship Fund. She was a member of the Golden Key International Honour Society. Additionally, Olivia was on the volleyball, horseback riding and rock climbing teams. She spent the last semester studying abroad in England and traveling through Europe.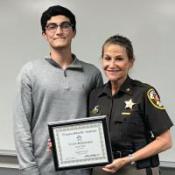 Artoghrul Ismayil is a junior at George Mason University majoring in Criminology. After college, he plans to pursue a career as a police officer.
In addition to his academic workload, Artoghrul works two jobs and serves as co-vice president of the Iota Nu Delta Fraternity, whose mission is to serve the community and raise awareness about the diverse South Asian culture.  He volunteers at the Vinson Hall Retirement Community for veterans and with Keen, an organization that helps children with disabilities play sports. Artoghrul also speaks six languages!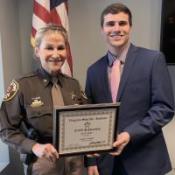 Austin Ludolph is a junior at George Mason University pursuing a degree in Criminology with a concentration in Homeland Security and Justice. His minor is Intelligence Analysis. After college, Austin's goal is to work for a federal agency to fulfill his dream of protecting the country and keeping our community safe.
In addition to his academic responsibilities, Austin is a member of the George Mason Club Tennis team, the Intelligence Community Club and the Lambda Alpha Epsilon criminology fraternity.  He works part time to help pay for his education and has been a strong volunteer in our community. He received the President's Volunteer Service Award while in high school.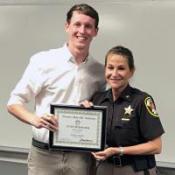 William Singleton is a freshman at George Mason University pursuing a degree in Criminology with a concentration in Criminal Justice. He has always wanted to go into law enforcement to help people and serve his community.
On campus, William is a member of the Club Swim Team, having served as captain of his high school's varsity swim team. He has held several swim coach and lifeguard positions over the past four years and has also taught swim lessons to children on the autism spectrum. William is heavily involved in his church and has participated in several mission trips.
Learn more about the VSI scholarship program and application process.