The Sheriff's Office is no longer accepting applications for the Spring 2019 Reserve Deputy Sheriff Academy. Please check back in April for information about a later Academy.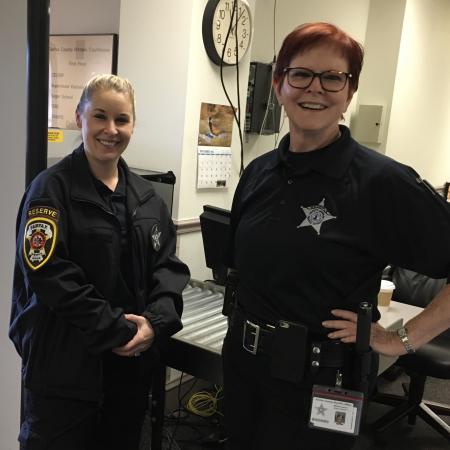 Reserve deputies are uniformed volunteers trained to perform a variety of operational and administrative assignments for the Sheriff's Office. Selection of candidates is based on a comprehensive assessment of each applicant's qualifications and availability. Each candidate also will undergo a background investigation. Reserve deputies receive additional training through their quarterly meetings and are eligible to attend most training available to sworn and civilian staff.
Application Process
Set up an account through the Fairfax County Volunteer Management System (VMS).  First, register in VMS and create your volunteer profile.
Once you have an account, you can log in and apply for the Reserve Deputy Sheriff opportunity.
Minimum Qualifications
United States citizen
At least 21 years of age
Valid driver's license
No convictions for felonies, serious misdemeanors or crimes of moral turpitude.
Benefits
The opportunity to give back to your community
Uniform and equipment at no cost
Volunteer Requirements
At least 12 hours of service each month (144 hours per calendar year)
Eight hours of training annually to maintain status as Reserve Deputy Sheriff
Training: Reserve Deputy Sheriff Academy
Primary location: Fairfax County Public Safety Center, 10520 Judicial Drive, Fairfax, VA 22030
10 weeks of classroom and practical training on Tuesday and Thursday evenings and Saturday mornings
Coursework includes, but is not be limited to:

Inmate interviews, supervision, behavior and searches
Courtroom security, searches and testimony
Handcuffing, key control and hostage situations
Defensive tactics
Civil law process
Traffic and crowd control
Child ID program
Cultural diversity awareness
Communication and public information
Report writing
CPR, AED and first aid
Radios
Firearms awareness
Baton and OC spray
Potential Assignments
Adult Detention Center operations support
Courthouse security
Courthouse information
Safe Visitation and Exchange Program for Juvenile & Domestic Relations Court
Inmate labor supervision
Child ID technician
Child safety seat technician
Community relations support
Special events support
Traffic and/or crowd control