Community Gardening Resources
Fairfax County's current zoning rules have expanded the locations where community gardens, farmers markets and home gardens are allowed:
Farmers Markets Allowed in More Places Year-Round
The new zoning law broadens when and where farmers markets may operate and what they can sell. They can be open all year and can now be located anywhere, as long as there is adequate parking and access to the site; for example, a farmers market can locate in an apartment building parking lot, an industrial or office complex or a community pool.

Edible Gardens Allowed in Front Yards
For homeowners, the zoning law ends the prohibition of edible gardens in front yards for lots less than 36,000 square feet. These fruit, vegetable, herb or flower gardens must be set back 15 feet from the front lot line, and they are limited to 100 square feet. Compost areas are not permitted in front yards.
Planning Your Community Garden
Planning Your Community Garden
When establishing a community garden, you may contact the Northern Virginia Soil and Water Conservation District Office (NVSWCD) at 703-324-1460, TTY 711. This agency can also assist with preparing a district-approved Soil and Water Quality Conservation Plan for the garden.
The Fairfax Food Council, a county-sponsored coalition, offers community gardening workshops to teach residents how to grow their own food.
Managing Your Community Garden
Managing Your Community Garden
Once established, it is important that you know the rules and best practices for maintaining your community garden while being a good neighbor.
Gardening hours are limited to between 7 a.m. and dusk.
For time limitations on the use of gasoline powered or mechanized equipment please refer to the Fairfax County noise ordinance.
Traditional gardening equipment should be used to maintain your plot, such as: trowels, hand fork, claw or cultivator, hoe, hand pruner, watering can, shovel or spade, wheelbarrow and gloves. For time limitations on the use of gasoline powered or mechanized equipment please refer to the Fairfax County noise ordinance.
Healthy Garden Maintenance Basics:
You may need to strip compacted soils. You can use a tiller but should only do so in the spring and fall.
Apply a layer of organic material (e.g. mulch or compost) after tilling to help prepare soil.
Use mulch and compost to assist with weed control, soil enrichment, soil moisture and temperature retention.
Use boxed planting beds and mulched borders to assist with erosion control and maintain soil nutrient quality.
Prevent erosion along paths between planting beds by using wood chips or heavy geotextile fabric as ground cover.
Apply commercial fertilizer based on soil test recommendations.
Apply pesticides according to the label instructions – be sure to use the appropriate product for the specific pest.
Plant warm/cool season cover crop at the end of a growing season to suppress weeds, add nutrients to soil, reduce erosion and protect water quality.
Additional Gardening Resources: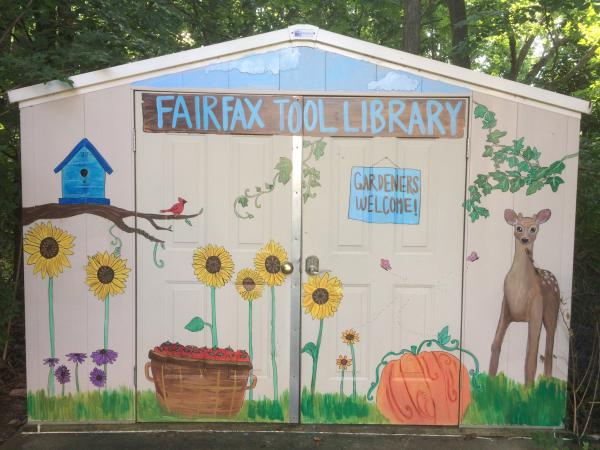 Do You Need Some Gardening Tools?
The Fairfax Food Council recently created a Tool Library available to anyone planning to grow edible plants. Located in the garden shed behind Daniels Run Peace Church (3729 Old Lee Hwy., Fairfax, VA 22030) in Fairfax City are a wide assortment of shovels, hoes, rakes, pruners, a posthole digger, a wheel barrow and a small rototiller that are available to borrow free of charge. Make a tool reservation
Benefits of Community Gardens
Benefits of Community Gardens
Community gardens address the hunger for locally grown food while also increasing access to healthy food options. 
Community garden programs offer many benefits, especially for citizens, in both urban and suburban areas. 
Beautification
Community gardening turns urban eyesores into vibrant green space, which can improve the quality of life for everyone in the neighborhood – not just the people that actually tend the garden.
 
Fresh Produce
Community gardens can provide fresh, nutritious produce for many families that couldn't otherwise afford it, improving their diet and overall health. Some gardeners donate what they have grown to local food pantries, shelters and hospitals.
 
A Cleaner Environment
Plants in community gardens add oxygen to the air and help reduce air pollution. They also absorb rainwater, reducing the amount of runoff that runs through neighboring land and streets. This decreases the amount of pollutants that enter rivers and lakes in the community.
 
Stronger Families & Communities
Tending of community gardens gives residents a chance to connect with their neighbors and feel more personally invested in the places they live, building a sense of ownership and
belonging.
 
Educational Opportunities
Working in a community garden is educational for kids and adults for basic gardening skills and nutrition and provides an opportunity to learn about other cultural food differences within their community.