July 18, 2019
Peer support is a service provided by individuals who have common life experiences with the people they are serving. A peer recovery specialist is in successful and ongoing recovery from a mental illness and/or substance use disorder and uses his or her lived experience to help others achieve recovery.
In the Fairfax County Adult Detention Center (ADC), peer recovery specialists work with inmates who are beginning their recovery from substance use and are committed to continuing their recovery after they are released. The intense, highly structured program is known as STAR – Striving to Achieve Recovery. Inmate participants must assume responsibility not only for their own recovery, but also for the recovery of their peers.
Nick Yacoub is a peer recovery specialist employed by the Fairfax-Falls Church Community Services Board and assigned to the STAR unit. Yacoub has been in recovery for over 11 years. He describes a substance use disorder as the thinking and behavior patterns that revolve around the substance. Therefore, recovery requires a lifestyle change, not just abstinence.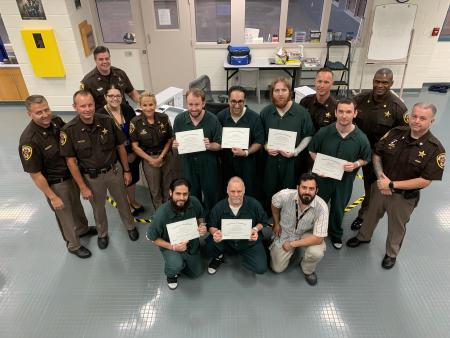 About six months after the November 1, 2018 launch of the STAR program, Yacoub offered Peer Support Specialist Training to several of the original inmate participants. The 72-hour training provides non-clinical, wellness-focused, trauma-informed support.
"The most important parts of the training," said Yacoub, "are knowing and adhering to a peer code of ethics and using lived experience in appropriate ways to help people discover and build a recovery lifestyle for themselves. A lot of that involves studying best practices, holding people in unconditional high regard, explaining individual advocacy, using recovery-oriented language, and developing person-centered approaches. We help people to express and achieve personal goals for wellness, recovery, resiliency and self-advocacy."
Peer recovery specialists also provide community networking and linkage with social, recreational, spiritual, volunteer, educational and vocational resources.
At the conclusion of the training, Sheriff Stacey Kincaid recognized the participants for their achievements. "The goal of the STAR program is to help each of you find what works best for you. It will never be a one size fits all solution. As newly minted peer recovery specialists, your job is to continue mentoring your peers in the ADC and then take your experience and skills back to the community to help others find and sustain their own unique recovery."
Keith is a STAR participant who completed the training and is on his way to earning the requisite 500 service hours by mentoring inmates new to the program. "The STAR program has taught me to empower people so that they can recover through their own strengths," Keith explained. "I have a lot of hope and wisdom and experience. I can help people go into recovery, so they don't have to go through what I've gone through for as long as I have. This program has become my purpose in life. I would like to pursue a career in this field."
Learn more about the CSB's peer support and recovery services.