Project News and Updates
The project team is currently evaluating comments received as a result of the April 2018 citizen information meeting. Frequently Asked Questions (FAQs) have been compiled from the comments and questions submitted for the project on the following topics:
Please check back as more FAQs will be published as soon as they are available.
Scope revisions to address public feedback are currently under review by the project team. Internal presentations are expected in July for potential scope modifications to the project. Once approved, a description of the changes will be posted on this website. The revised project plans will be presented to the public at a later date for comment.
Community Meeting Information
The most recent community meeting for the Sleepy Hollow Walkway project was held on April 23, 2018. Comments closed on May 11, 2018.
For presentation boards and information on the previous community meeting, held March 2, 2017, please visit the project's Community Meeting Archives.
Project Background
The new pedestrian facility will include the following:
A 3,900 ft. concrete sidewalk along the Westside of Sleepy Hollow Road between Marlo Drive and Aspen Lane.
A 500 ft. concrete sidewalk along the Eastside of Sleepy Hollow Road, north of Valley Brook Drive.
Several pedestrian crossing points of Sleepy Hollow Road will also be upgraded by the project including at Bay Tree Lane, Dearborn Drive, Kennedy Lane, Kerns Road and Castle Place.
Other infrastructure improvements related to the project include curb & gutter, curb ramps, driveway entrances, retaining walls, drainage improvements, roadway and signing modifications.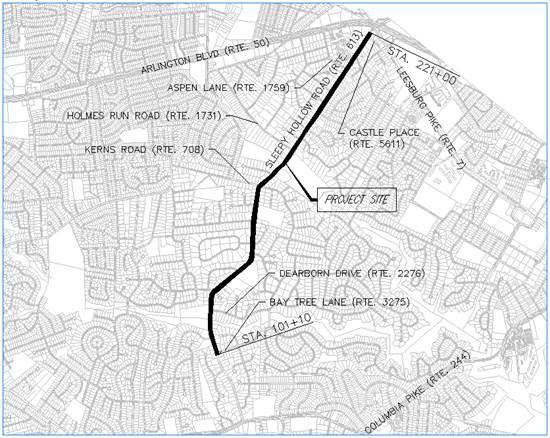 FCDOT ensures nondiscrimination in all programs and activities in accordance with Title VI of the Civil Rights Act of 1964 and the Americans with Disabilities Act (ADA). If you need this information in an alternate format or would like to request reasonable accommodations for persons with disabilities or limited English proficiency, contact FCDOT at 703-877-5600, TTY 711. Requests for assistance must be received at least 7 business days in advance of an event.