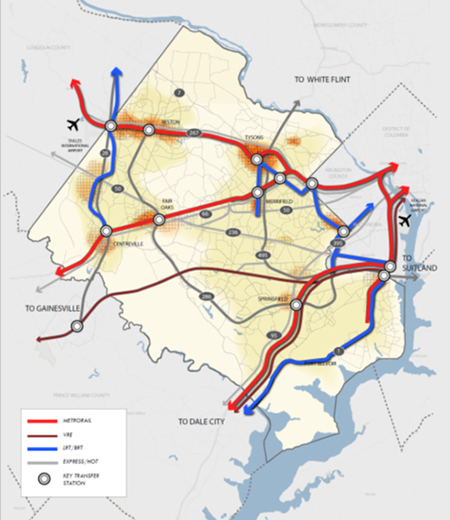 This map shows the Proposed High Quality Transit Network Concept. This proposed concept builds upon transit investments that are already on the ground, under construction, or in the Washington region's Constrained Long Range Plan. The proposed concept adds to the Metrorail system and introduces new light rail transit and bus rapid transit routes to create an interconnected network. This network includes commuter corridors and destination corridors, supported by a system of express bus routes.
Existing High Quality Transit Network elements serving Fairfax County include Metrorail, the Virginia Railway Express (VRE) commuter rail, and express bus services on high occupancy vehicle (HOV) lanes or high occupancy vehicle and toll lanes which are also called Express/HOT lanes.The region's Constrained Long Range Plan transit connections provide a starting point for Proposed High Quality Transit Network Concept and include the Silver Line, Bus Rapid Transit on Richmond Highway, and the Beauregard / Van Dorn and Duke Street Transitways serving Alexandria.
Metrorail extensions are designed to provide capacity to connect Fairfax County with other jurisdictions for longer-distance trips as the Washington region expands southward and westward over time. These commuter corridors include a Metrorail Blue Line Extension to Potomac Mills and an Orange Line Extension to Gainesville. A third Metrorail extension, for the Yellow Line, will help support economic development at Beacon Hill and Hybla Valley. Light rail and bus rapid transit lines provide service to support access to and within transit-oriented development along linear corridors. They include high capacity transit along Route 7 from Tysons to Alexandria, along Gallows Road connecting the Tysons and Merrifield activity centers, and another line parallel to Route 28 between Centreville and Dulles Town Center.
High Quality Transit Network routes are supported by express bus services. Circumferential Express Bus Services connect activity centers and High Quality Transit Network services in radial corridors and provide flexibility for through-routing, sometimes sharing their lanes with HOV traffic. These services include Capital Beltway Express routes on managed lanes connecting Tysons to Montgomery County, Tysons to Springfield and Alexandria, and Alexandria to Prince George's County. Express routes would also travel on the Fairfax County Parkway and on Route 28. Finally, radial Express Bus Services augment the grid of direct and flexible transit connections, including Route 50 throughout Fairfax County and into Washington DC and Route 236 from Fairfax City to Alexandria.