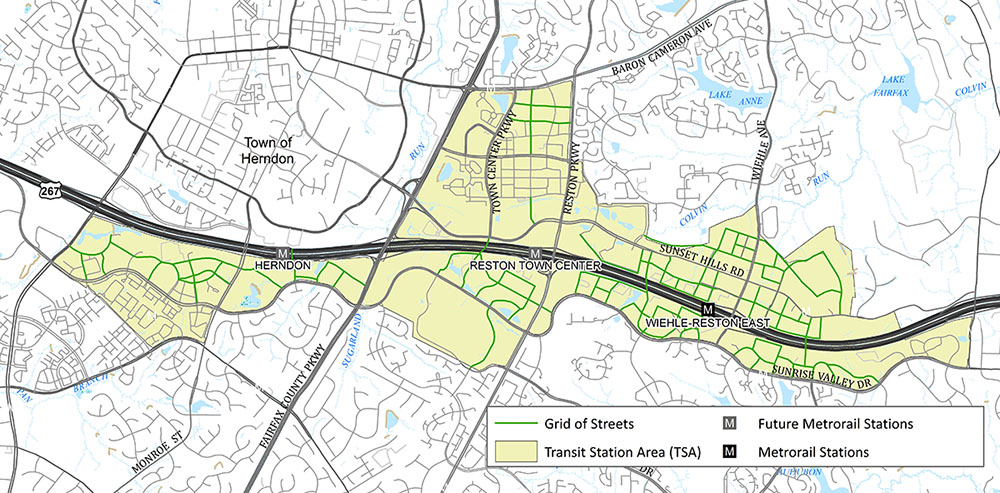 Project News and Updates
On April 4, the Board of Supervisors held a public hearing on and approved the creation of a Reston Transportation Service District, which will encompass the Wiehle-Reston East, Reston Town Center and Herndon transit station areas. The Board also approved the creation of an advisory board that will work with staff and provide input to the Board of Supervisors on the annual tax rate for the district and transportation projects funded by the district.
The Reston Transportation Funding Plan was approved by the Fairfax County Board of Supervisors on February 28, 2017. For background information, see the Community Meeting presentations from March; the Meeting Agenda, Administrative Item #3, located on page 78; as well as the list of parcels.
 Advisory Group Meetings
 Community Meetings
The last community meeting for the Reston Network Analysis was held on Monday, April 24, 2017, 7 p.m., at the North County Governmental Center, 1801 Cameron Glen Dr., Reston. The meeting focused on the project status, the results of the mid-buildout analysis, and roadway classifications for the Grid of Streets.
Stakeholder Group Meetings
The Reston Network Analysis Stakeholders Group met on Friday, March 17, 2017, 8:30 a.m., at the Fairfax County Department of Transportation, 4050 Legato Road, Suite 400, Fairfax, in the 4th floor conference rooms. 
FCDOT ensures nondiscrimination in all programs and activities in accordance with Title VI of the Civil Rights Act of 1964 and the Americans with Disabilities Act (ADA). If you need this information in an alternate format or would like to request reasonable accommodations for persons with disabilities or limited English proficiency, contact FCDOT at 703-877-5600, TTY 711. Requests for assistance must be received at least 7 business days in advance of an event.
Project Background and Resources
The Purpose of the network analysis, as directed by the Board of Supervisors, is to evaluate the conceptual grids of streets and road elements at gateways to the Reston Transit Station Areas (TSAs), which would result in traffic flowing at acceptable conditions while maintaining a walkable grid of streets. The end result should be TSA street networks that are cost effective, and require the minimum right-of-way, with the least negative impacts to adjacent properties and the environment and take into consideration the provisions of the Reston Phase I Master Plan. These improvements will mitigate problem locations in the three TSAs.
Community Meeting Presentations and Updates