What is addiction?
A chronic disease; can lead to death if not treated. Brain chemistry is altered.
Individual is unable to abstain from the drug; loses ability to control behavior.
Emotional responses become dysfunctional; judgment becomes impaired.
What are opioids?
Opioids act on the brain and produce a euphoric effect.
Often prescribed to relieve pain. Morphine, oxycodone, hydrocodone, tramadol, methadone and fentanyl are all opioids.
The illegal drug, heroin, is also an opioid.
Highly addictive, even lethal, if used improperly.
Heroin laced with carfentanil (an opioid tranquilizer used on large animals) and fentanyl has appeared in illegal drug markets and is extremely dangerous for humans.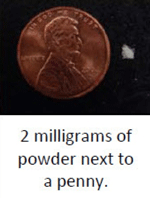 Fentanyl
Used for pain management for Stage 4 cancer patients.
Ten times more potent than heroin.
Lethal dose of pure fentanyl is about the size of a few grains of salt.
In 2020 in Fairfax County, police reporting indicates fentanyl has been found combined with cocaine, methamphetamine, heroin, ketamine and synthetic cannabinoids.
Carfentanil
Now present in illegal U.S. drug markets.
10,000 times more potent than morphine; 100 times more potent than fentanyl.
Depresses the central nervous system and ability to breathe.
Tiny particles (through nose, mouth, injection) can create life-threatening effects within minutes of exposure.