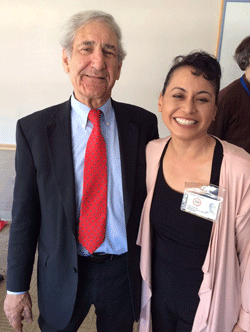 "Nothing feels fun anymore…"
"My mind feels foggy…"
"It's hard to make decisions lately…"
"I feel like a failure…"
"I have no energy anymore…"
Depression is a serious illness that impacts an estimated 15 million adults in the United States every year but studies show that the earlier someone recognizes the symptoms and seeks treatment, the healthier the outcome will be.
Robert M. Post, M.D., one of the nation's leading psychiatric experts and researchers in depressive and bipolar illnesses, addressed dozens of mental health clinicians from the Fairfax County region at a lunchtime forum on March 29.
"Depression is systemic; it impacts so much more than the brain; numerous studies show that a number of vital human organs are impacted by it, indicating the importance of protecting the mind to protect the full body and the importance of whole health," said Dr. Post.
Throughout his career, including 35 years at the National Institute for Mental Health, Dr. Post has focused on fostering an understanding and treatment of bipolar illness. He founded the International Stanley Foundation Bipolar Network (now the Bipolar Collaborative Network). Currently, he is in private practice and specializing in treatment and prevention of childhood-onset bipolar illness.
Dr. Post stressed that there are several key preventive strategies everyone can take to recognize depressive illness and stem its severity:
It's a family affair; know your history; much higher rates of illness for people with a parent (or a grandparent) with depression. Quicker detection and treatment is key to managing illness.
Take your vitamins. D3 and folic acid can help.
Spend time with friends/relatives; try not to become isolated.
Know that major changes (moving, changing jobs, getting married) can have an impact on mood; pay close attention to managing your well-being.
Educate yourself about depression.
Maria Tsao, M.D., a CSB psychiatrist, arranged the forum as part of a series designed to connect county mental health clinicians with experts from outside of the agency, as well as to network with local practitioners from Inova Health System, the Northern Virginia Mental Health Institute and private practice providers. "We have the same challenges and collaborate professionally every day," said Dr. Tsao. "So we felt like informal gatherings, that offer an opportunity to learn from renowned experts, seemed like a good practice to start," she said. In December, Dr. Tsao and the CSB team welcomed Dr. Henry Nasrallah, a psychiatrist who specializes in research and treatment of schizophrenia.
The National Institute for Mental Health provides more information on depression; signs/symptoms, risk factors, treatment and therapies.
People who feel several of these signs and symptoms during most of the day, nearly every day, for at least two weeks, may be suffering from depression:
Persistent sad, anxious, or "empty" mood
Feelings of hopelessness, or pessimism
Irritability
Feelings of guilt, worthlessness, or helplessness
Loss of interest or pleasure in hobbies and activities
Decreased energy or fatigue
Moving or talking more slowly
Feeling restless or having trouble sitting still
Difficulty concentrating, remembering, or making decisions
Difficulty sleeping, early-morning awakening, or oversleeping
Appetite and/or weight changes
Thoughts of death or suicide, or suicide attempts
Aches or pains, headaches, cramps, or digestive problems without a clear physical cause and/or that do not ease even with treatment
Mental health is important to overall health; brief screenings are one way to determine if you or someone you care about should connect with a mental health professional. Take an online, confidential screening that includes depression (youth and adult), bipolar disorder, anxiety, depression, and other conditions.
Anyone who feels depressed and doesn't know where to turn can come directly to the Merrifield Center for a screening (Monday through Friday, 9 a.m. to 5 p.m.) or call CSB Entry & Referral Services at 703-383-8500 (also Monday through Friday, 9 a.m. to 5 p.m.).
CSB Emergency Services staff is also available 24/7 at 703-573-5679. Call 911 in a life-threatening emergency.