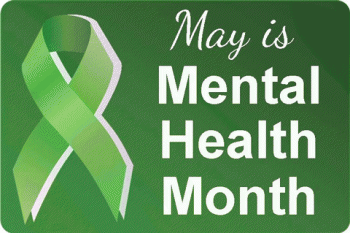 What's normal teen behavior? When should you seek support?
Thursday, May 25, 2017
6 to 8 p.m.
Merrifield Center
8221 Willow Oaks Corporate Drive, Fairfax 22031
Being a teen is tough. School, sports, social lives and social media – all can bring emotional challenges. Caring adults can help.
With the right tools, adults can help teens foster positive relationships, develop resiliency in response to adversity, and increase their ability to cope.
Join the Fairfax-Falls Church Community Services Board (CSB) and community partners for an honest conversation on strengthening connections within families and helping teens cope with adversity and emotional challenges. Panelists will include CSB clinical and wellness/prevention staff and experts from Fairfax County Public Schools, the Inova Kellar Center and PRS CrisisLink.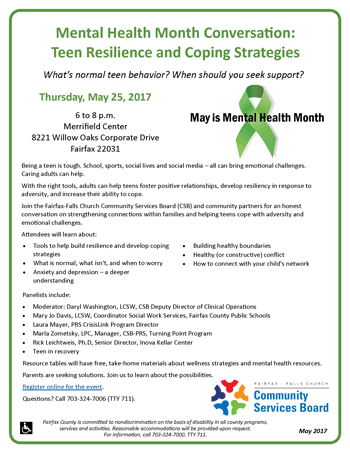 Attendees will learn about:
Tools to help build resilience and develop coping strategies
What is normal, what isn't, and when to worry
Anxiety and depression – a deeper understanding
Building healthy boundaries
Healthy (or constructive) conflict
How to connect with your child's network
Resource tables will have free, take-home materials about wellness strategies and mental health resources.
Parents are seeking solutions. Join us to learn about the possibilities.
Register online for the event.
Questions? Call 703-324-7006 (TTY 711).
Fairfax County is committed to nondiscrimination on the basis of disability in all county programs, services and activities. Reasonable accommodations will be provided upon request. For information, call 703-324-7006, TTY 711.