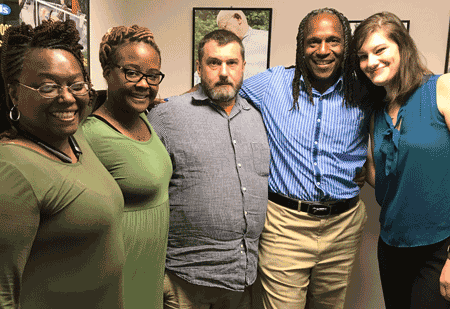 Peer support programs provide opportunities for people who are in long-term recovery from mental health and substance use challenges to support other people who are struggling to reach recovery.
The Fairfax-Falls Church Community Services Board (CSB) has stepped up its peer inclusion practices by creating a new Peer Training Academy that begins June 10.
Peer support is considered a best practice by the Substance Abuse and Mental Health Services Administration and the CSB and many other organizations.  
The new CSB Peer Specialist Training Academy will provide on-the-job training for Peer Support Specialists in the skills and knowledge they need to succeed in their roles. The Academy is a three-month pilot program.
The goal of the academy is to help participants learn how our organization and the wider human services system functions. It will also provide opportunities to equip peer specialists with a set of skills they'll need to perform in their jobs, such as mentoring, setting boundaries, facilitator training and practicing providing individual and group peer support.
The Academy's first cohort is comprised of eight staff who will rotate their time among three programs, starting with substance misuse, detoxification and jail-based treatment.
According to Michael T. Lane, Director of Individual and Family Affairs and manager responsible for the new academy, this is an exciting opportunity for the community as well as for the CSB. "As we continue to grow our peer staff, we are encouraging our various CSB programs to give peer specialists a try. The more programs they're exposed to, the better chance we'll have to learn where they may be a good fit."
At the close of the Academy, successful graduates will be placed for ongoing employment within CSB programs.
The CSB employs more than 1,100 people; of those, 42 are peer support specialists. There are currently nine openings.
Lane added, "Peer support services are a win-win for the individuals we serve, as well as for the employee. It is deeply rewarding to provide support to people struggling with similar mental health and substance use challenges that the employee did. Our clients often relate better to someone who has had those challenges. Peers assist in developing problem-solving, decision-making and coping skills; they provide meaningful connections that others can't and they offer and demonstrate that recovery is possible."
Learn more about CSB peer support.