Nearly 1 in 5 people experience a mental health concern each year, according to the National Alliance on Mental Illness (NAMI). Mental illness, including depression, substance use disorders, anxiety, or psychosis can happen to anyone. Take this opportunity this month to learn more about increasing awareness of mental health, healthy habits, and how to protect and maintain emotional health and well-being. Help shine a light on mental health and awareness and work to eliminate stigma surrounding mental illness.
How to take action:
Enroll in one of CSB's Mental Health First Aid courses. Mental Health First Aid is a public education program offered by the Fairfax-Falls Church Community Services Board that can help communities understand mental illnesses, seek timely intervention, and save lives. Mental health first aid introduces risk factors and warning signs of mental health problems, helps build understanding of importance of early intervention and teaches participants how to help someone in crisis. The CSB offers courses for adults, older adults, people who work with youth, higher education, and those who serve in public safety roles.
Take CSB's REVIVE! courses train people on what to do, and not to do, in an overdose situation, how to administer life-saving Naloxone and what to do afterwards. The courses are free, about an hour long, and offered across Fairfax County and the Cities of Falls Church and Fairfax year-round.
Take one of CSB's free, confidential online mental health screenings. Completing these anonymous screenings will help you determine if your recent thoughts or behaviors may be associated with a common, treatable mental health issue.
Practice healthy self-care strategies to improve your mental health:

Exercise. Even a small amount can make a big difference in your day.
Connect with someone. Make a phone call or visit with a friend or family member. 
Start a cycle of encouragement; tell others what you appreciate about them.
Listen to music that inspires and motivates you.
Write a poem on something you care about, or an article on something you feel is interesting.

Join our conversation on mental health by signing up to receive CSB News, follow the CSB on Twitter and "like" the CSB on Facebook.
Children's Mental Health Awareness and Acceptance Week is May 1 - 7.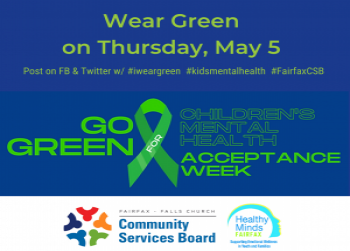 Get involved, learn more, help your community and reduce stigma. Help is available, treatment works and people do recover. Call the Fairfax-Falls Church Community Services Board for guidance and resources at 703-383-8500 (TTY 711). CSB Emergency Services are available 24/7 at 703-573-5679 (TTY 711). Call 911 for a life-threatening emergency.