Article by Fairfax County Department of Family Services Kinship Care Unit
(Posted 2020 October)
---
Kinship families are formed when grandparents, aunts and uncles, other relatives, or close family friends take care of children when their parents are unable to do so due to challenging family situations.
According to the U.S. Government Accountability Office, there are an estimated 2.7 million children living with kin caregivers such as grandparents, other relatives or close family friends, without their parents in the home. Nationally, most of these kinship families (62%) are headed by grandparents.
The 2019 American Community Survey indicates that in Fairfax County, over 3,082 grandparents are responsible for raising their grandchildren or children of close friends.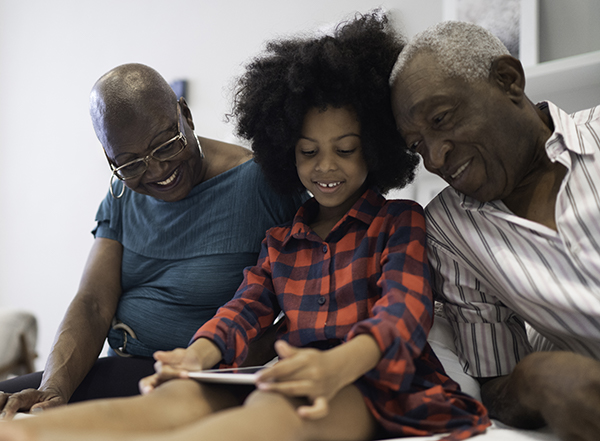 Kinship caregiving is found in all socioeconomic, educational, ethnic, and racial backgrounds. Often, the adults in these newly created kinship families did not expect to become caregivers and they need support. Under normal circumstances, these families can face significant health, financial and legal challenges, just to name a few.
During emergencies, including natural disasters or pandemics, these challenges increase for kinship families. Recognizing this need, the Advisory Council to Support Grandparents Raising Grandchildren (SGRG) developed a COVID-19/Emergency Preparedness Resource Guide for Kinship Families and Grandfamilies. Learn more resources such as:
COVID-19 resources for kinship family and grandfamily caregivers.
General COVID-19 information from the federal government.
Tips for staying connected in an emergency.
Helplines and hotlines.
Resources for health care and social service providers.
The Fairfax County Department of Family Services offers information on resources for all kinship families. Kinship caregivers and social service providers residing in Fairfax County or the cities of Fairfax and Falls Church also may call 703-324-4534 and talk to a kinship navigator to receive connections to services and resources about kinship situations. Learn about Kinship Cafés and Kinship Support Groups that help build community networks among kinship caregivers. To inquire about upcoming dates, call 703-324-7720.
Another informative resource for all families—especially now during COVID-19 and flu season, is: What If I Contract COVID-19 and I'm Too Sick to Care for My Child?
---
This article is part of the Golden Gazette monthly newsletter which covers a variety of topics and community news concerning older adults and caregivers in Fairfax County. Are you new to the Golden Gazette? Don't miss out on future newsletters! Subscribe to get the electronic or free printed version mailed to you. Have a suggestion for a topic? Share it in an email or call 703-324-GOLD (4653).
---