The Fire Alarm & Sprinkler Systems Training (FASST) Laboratory was developed to provide firefighters, fire inspectors, allied fire protection industry personnel, and property management and building maintenance staff with hands-on training opportunities to learn about various types of fire protection equipment and systems installed in buildings located throughout Fairfax County and the metropolitan region. The approximately 850 square foot modular space can accommodate up to 24 students per class. The training offered includes inspection, maintenance, testing, and operation of the following categories of fire protection equipment and systems:
Fire Alarm and Detection Systems (pictured below)
Wet, Dry, and Preaction Sprinkler Systems (pictured below)
Residential Sprinkler Systems
Fire Pump, Pump Controller, and Related Equipment (pictured below)
Standpipe Systems
Commercial Kitchen Wet-Chemical Hood Suppression Systems
High-Rise Fire Command Center
The training laboratory is a public-private partnership, completed at no cost to residents of Fairfax County. It will serve firefighters from numerous metropolitan area fire and rescue departments and will partner with several allied fire protection industry businesses, Northern Virginia Community College (NVCC), Virginia Fire Services Board, and the Federal Emergency Management Agency (FEMA). The laboratory provides an invaluable resource to better help protect the lives and property of residents throughout the metropolitan region.
SPRINKLER SYSTEMS "RISER ROW"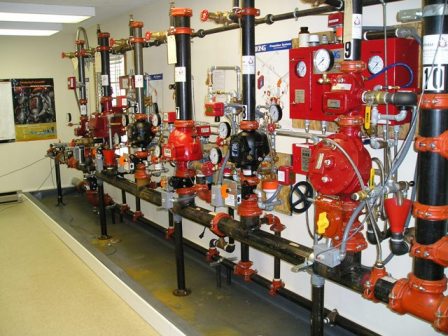 FIRE ALARM SYSTEM "SCENARIO BOARDS"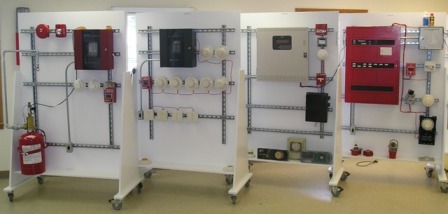 PREACTION SPRINKLER SYSTEMS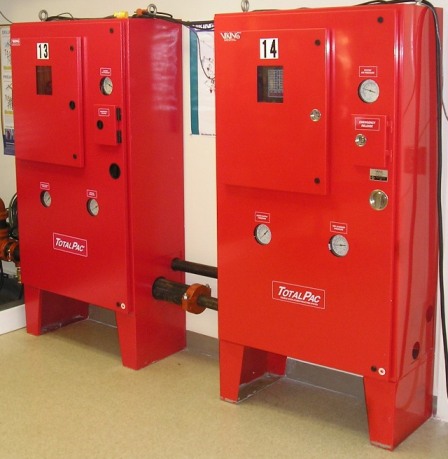 FIRE PUMP CONTROLLER & PUMP ACCESSORIES