Fairfax County Veteran's Treatment Docket

Of the 178,000 veterans living in Northern Virginia, more than 76,000 reside in Fairfax County (U.S. Census Bureau, 2018). Veterans face unique needs and challenges, as it is estimated that 75% of veterans have substance use treatment needs and many are diagnosed with co-occurring mental health disorders, including PTSD, TBI and/or have experienced military sexual trauma. Currently, it is estimated that 22 veterans commit suicide a day.  These unique challenges have caused many veterans to become entangled in the criminal justice system.

The Fairfax VTD includes Circuit Court, General District Court (GDC), and Juvenile and Domestic Relations (JDR) Dockets, which are approved and regulated by of the Virginia State Supreme Court. The Fairfax GDC and Circuit Court VTD Dockets have been operating since 2015 and 2016, respectively. The Virginia Supreme Court approved JDR Court Docket to join the Fairfax VTD in 2019.
The target population is justice-involved veterans who are diagnosed with mental health and/or substance use disorders (SUD), have high criminogenic risk of reoffending, and express a willingness to engage in treatment to address those criminogenic risk and treatment needs.
The VTD team does not apply subjective criteria or personal impressions to determine participants' suitability for the program. Historically disadvantaged groups' acceptance and retention rates are tracked, and the team actively addresses any inequities identified.
Eligibility and Disqualification Criteria
Veterans must meet legal, demographic and treatment eligibility requirements in order to be accepted into the Veterans Treatment Docket.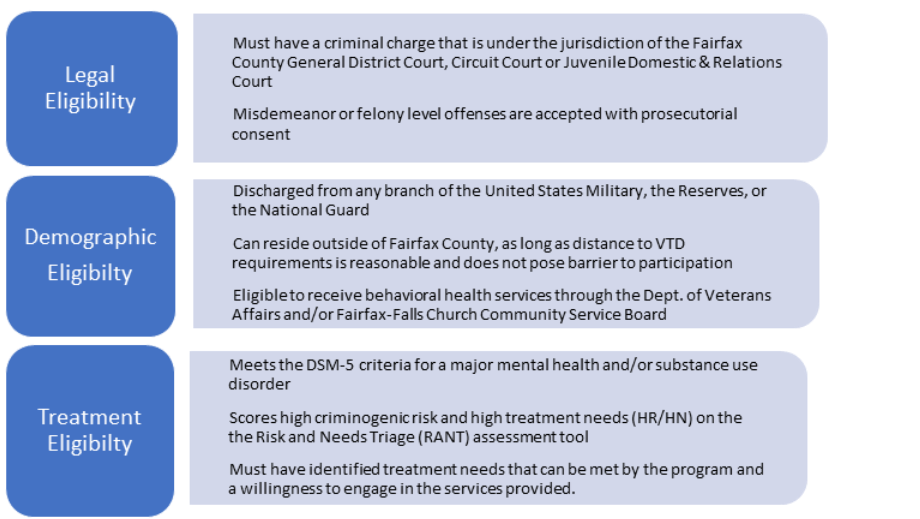 Exclusionary criteria is not automatic, but could include: violent criminal history; sex offenses; unresolved felony or jailable misdemeanor offenses in other jurisdictions; a dishonorable discharge from any branch of the United States Military; and/or lack of cognitive ability to have meaningful participation in docket requirements.