HEALTH ADVISORY
SUMMARY
VDH released a new algorithm for when a child should be excluded from school or childcare, what care and further evaluation for COVID-19 should be pursued, and when the child can return to the school or childcare setting (https://www.vdh.virginia.gov/content/uploads/sites/182/2020/10/Child-School-COVID-19-Algorithm-2020-2-pages_Final-1.pdf). This algorithm is to ensure a shared understanding of the approach to exclusion, diagnosis, and return by parents and guardians, schools and childcare facilities, and healthcare providers (graphic included on page two). As schools return to in-person instruction, healthcare providers are essential in ensuring suspect COVID-19 cases are evaluated, diagnosed, and isolated appropriately.
SUGGESTED ACTIONS
All students exhibiting any symptom of COVID-19 that is new or unusual for them are recommended for a healthcare provider evaluation before returning to school. 

Symptoms of COVID-19 include fever (≥100.4◦F) or chills, fatigue (more tired than usual), headache, muscle aches, cough, nasal congestion or runny nose, new loss of taste or smell, sore throat, shortness of breath or difficulty breathing, abdominal pain, diarrhea, nausea or vomiting, new onset poor appetite or poor feeding.
As students are recommended to be excluded for at least 10 days if no clinical evaluation is performed on the symptomatic child, requests for sick healthcare provider visits are expected to increase. Medical offices may need to prepare for increased visits and consider new strategies to ensure appropriate social distancing in waiting rooms (https://www.cdc.gov/coronavirus/2019-ncov/hcp/preparedness-resources.html).

Healthcare providers should provide clinical evaluations for symptomatic children according to the latest CDC guidance (www.cdc.gov/coronavirus/2019-ncov/hcp/pediatric-hcp.html).
If local COVID transmission is high (≥50 cases/100,000 population in the past 14 days), patients exhibiting any symptom of COVID-19 should be tested unless those symptoms are usual for the child or caused by a known diagnosis.
RT-PCR or antigen (Ag) testing is acceptable. If an Ag detection test is negative and there is a high clinical suspicion of COVID-19, confirm with RT-PCR, ideally within 2 days of the initial Ag test. If RT-PCR testing is not available, clinical discretion can be used in whether to recommend the patient isolate.
All patients who are tested for COVID-19 should be told to stay at home and away from others until they receive test results. Further guidance will be provided by public health if the test result is positive.
Healthcare providers who are unable to collect specimens for testing can refer patients to the following resource for testing information/locations: https://www.fairfaxcounty.gov/health/novel-coronavirus/coronavirus-covid-19-testing.
COVID-19 is a rapidly reportable condition in Virginia. Healthcare providers are legally required to report all symptomatic individuals with contact to a confirmed case (probable case) and positive PCR lab reports to the local health department immediately. Providers should report cases electronically to the following link: https://redcap.vdh.virginia.gov/redcap/surveys/?s=NYKYR7W47M.
Additionally required by law (CARES Act), all SARS-CoV-2 antigen test result must be reported to the local health department. Unlike for RT-PCR, where results are directly transmitted to public health by the laboratory that performs the testing, no such mechanism exists for point-of-care tests. Therefore, healthcare providers should establish reporting processes that ensure rapid antigen test results (both positive and negative) are sent to the Fairfax County Health Department using the following reporting portal through the Virginia Department of Health within 24 hours: https://apps.vdh.virginia.gov/pocreporting/login/login.aspx.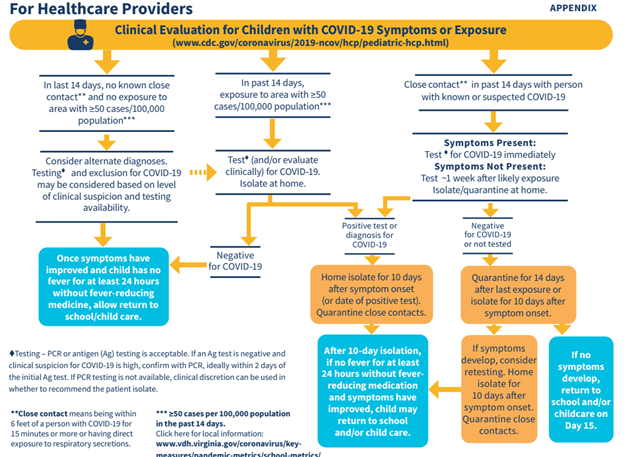 Click to see full VDH Algorithm for Evaluating a Child with COVID-19 Symptoms or Exposure