While COVID-19 cases are slowly declining, families are wondering if it's OK to celebrate Halloween this year. The short answer is yes, but with precautions.
According to the Centers for Disease Control and Prevention (CDC), there are ways to enjoy the tradition and still protect your health. The best way to protect you and your loved ones from COVID-19 and possibly spreading the virus to others is to get vaccinated as soon as you are eligible and wear a mask indoors when there is substantial or high levels of community transmission.
While trick-or-treaters under 12 aren't eligible for vaccine yet, this fun tradition can be done safely if families keep activities outdoors, wear a cloth or surgical mask (don't rely on a costume mask to protect you), avoid crowded doorsteps, and wash hands before eating candy.
For a healthy Halloween, consider these tips: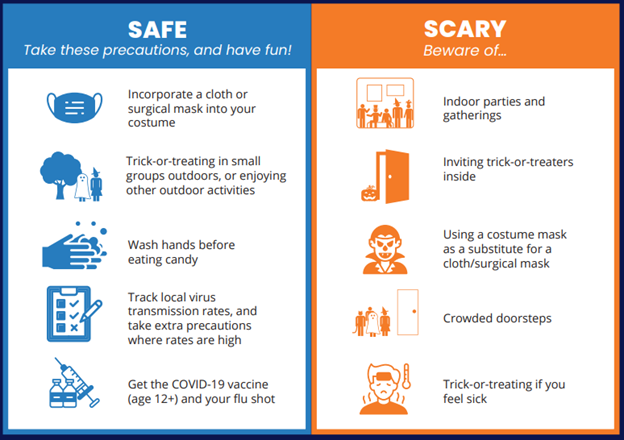 The Virginia Department of Health recommends the following guidance:
If you have COVID-19 symptoms, have tested positive for COVID-19 in the past 10 days, or have been in contact with someone with COVID in the past 14 days, stay home and away from others.
If you are self-isolating or self-quarantining, do not participate in trick-or-treating this year, rather, consider virtual options to celebrate.
Maintain at least six feet of distance between yourself and others who do not live in your household.
Wash your hands before going trick-or-treating or handing out candy. Hand sanitizer should be used while trick-or-treating or handing out candy when soap and water aren't available.
Wear a cloth mask. Halloween masks may not fit snugly against the face and may not cover the nose and mouth. Halloween masks with gaps and holes do not protect against inhaling respiratory droplets from other people. Wearing a cloth mask under a Halloween mask may make it hard to breathe and is not recommended.
If you hand out candy, consider setting up an area outside, like a folding table or chairs, to set out candy. Space out the placement of treats so that multiple people do not have to reach into the same bowl. Consider contactless ways to deliver treats, like a candy chute that is more than six feet long.
For trunk-or-treating, create distance between cars by parking in every other space.
By working together and making small adjustments, we can enjoy traditions and still protect our own health and the health of our family and friends.
For more information about celebrating Halloween in Fairfax County, see: Your Guide to Halloween – Additional Trick-or-Treating, Costume and Safety Tips.