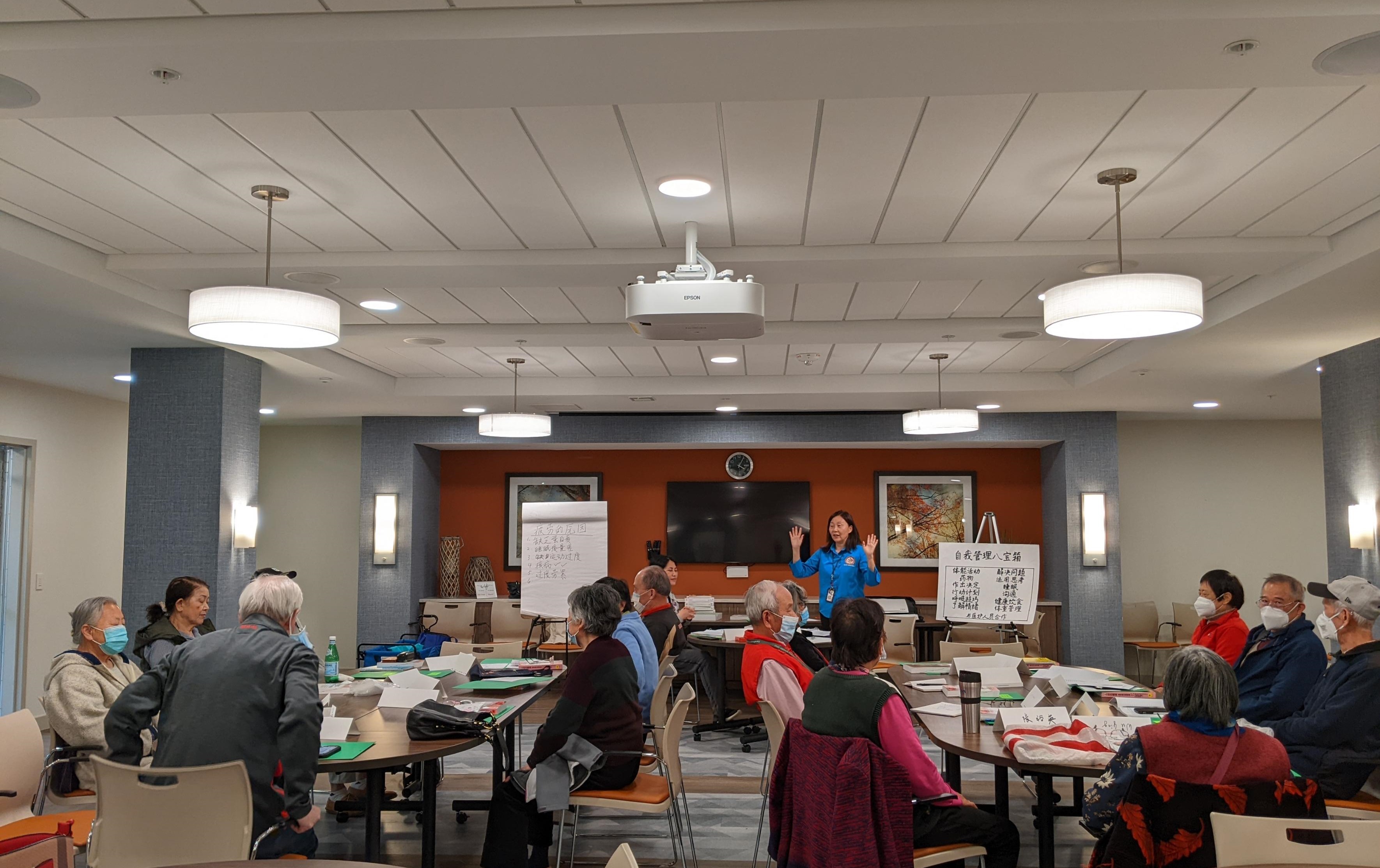 The Fairfax County Health Department recently partnered with the Silver Light Seniors Association and Lake Anne House to facilitate a Chronic Disease Self-Management Program. The six-week program was a collaboration with several Asian leaders and the Health Department to provide information on how to manage symptoms of chronic diseases including diabetes, arthritis, and heart disease. 
"Cancer, heart disease, cerebrovascular diseases, like stroke and diabetes, are among the top causes of death for Asian-Americans according to the Centers for Disease Control and Prevention (CDC)," said Binbin Yang, community outreach specialist, Fairfax County Health Department. "The Chronic Disease Self-Management Program aims to give those suffering from chronic disease the tools they need to improve their health – physically and emotionally."
Ms. Yang is one of several Health Department staff members who are certified as Chronic Disease Self-Management educators.   
"These programs are completely centered around culture. Over time, we have delivered chronic disease education to community groups representing the rich diversity of Fairfax County, working to ensure that people of all backgrounds and socioeconomic and education levels are equipped with tools to help manage their chronic disease," said Ms. Yang, who led the workshop at Lake Anne House.  
The Chronic Disease Self-Management Program covers a variety of topics, including: 
Techniques for managing frustration, fatigue, pain, and isolation 
Exercises for maintaining and improving strength, flexibility, and endurance 
Appropriate use of medication 
Methods for communicating effectively with family, friends, and health professionals 
Nutrition  
How to evaluate new treatment  
The success of this program is clear, with participants demonstrating significant improvements in exercise, cognitive symptom management, communication with physicians, self-reported general health, health distress, and fatigue as compared to non-participants. Participants also spent fewer days in the hospital and had fewer outpatient visits and hospitalizations. 
"It is the teaching process of the Chronic Disease Self-Management Program that makes it effective," said Ms. Yang. "Sessions encourage participation and mutual support and builds participants' confidence in their ability to manage their health and maintain active and fulfilling lives."
Interested in bringing the Chronic Disease Self-Management Program to your community? There is no charge for this program. Email hdoutreach@fairfaxcounty.gov to learn more.