Fairfax Health District Offering Free Vaccine Clinics to Ensure Children are Protected from Vaccine-Preventable Diseases
June 5, 2020: This release was updated to include details for the July 25, 2020 vaccine clinic.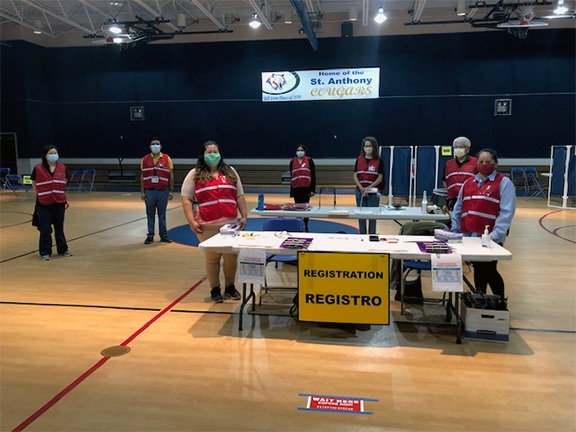 During this time of stay-at-home orders and social distancing requirements, access to routine immunization services has been limited and some parents are delaying bringing their children in for vaccination appointments with their pediatrician. To address the growing number of unvaccinated and under-vaccinated children, the Fairfax County Health Department will be hosting seven vaccination clinics throughout the Fairfax Health District in coming weeks. Childhood vaccines will be offered free of charge. 
"Since the start of the COVID-19 pandemic, we've seen a large drop in vaccination rates across the region," said the Health Department's Director of Health Services Shauna Severo. "This is deeply concerning, especially as we begin easing stay-at-home restrictions – children who are not up to date on their immunizations will be at greater risk for vaccine-preventable illnesses, including measles, chicken pox and whooping cough."
The Virginia Department of Health reports that between March 15 and April 23, vaccinations have dropped 45.7 percent compared to the same time period in 2019. The Fairfax County Health Department has seen an 83 percent drop in its vaccination rates among infants up to children age 5 compared to the same period one year ago.
The Fairfax County Health Department is committed to supporting its most vulnerable populations and recognize that their needs may be more pronounced during these challenging times. Working with its Outreach team and community partners, the Health Department selected locations that are easily accessible to residents. 
"Our intent with these childhood vaccination clinics is to target communities that are high risk and underserved," said Ms. Severo. "We have heard from families that many are concerned about taking their children to get routine healthcare during the pandemic. We encourage families to take advantage of these free vaccination clinics and we are taking special precautions to keep everyone safe."
The Health Department is also putting a number of preventative measures in place to minimize crowding and allay parents fears of coming to a community clinic. To protect families during the vaccination clinics, only a limited number of appointments per site will be made available. 
Visitors will be asked to limit the number of individuals they bring to the appointment and will require everyone 2 years of age and older to wear face coverings that cover their nose and mouth. In addition, the Health Department will be conducting temperature checks at the entrance, visitors will be spaced at least 6 feet apart, and vaccination stations will be separated by partitions. 
Clinics & Locations: 
June 6, 2020, 10am - 2pm, Harvest Chinese Christian Church, 4433 Brookfield Corporate Dr., Unit H, Chantilly, VA
June 11, 2020, 2pm - 6pm, Harvest Chinese Christian Church, 4433 Brookfield Corporate Dr., Unit H, Chantilly, VA
June 21, 2020, 10am - 2pm, Iglesia Adventista del Séptimo Día, 13615 Coppermine Road, Herndon, VA
June 25, 2020, 2pm - 6pm, Mt. Vernon District Office, 8350 Richmond Hwy., #233, Alexandria, VA
July 11, 2020, 10am - 2pm, St. Anthony of Padua Catholic Church, 3305 Glen Carlyn Road, Bailey's Crossroads, VA
July 16, 2020, 2pm - 6pm, Iglesia Adventista del Séptimo Día, 13615 Coppermine Road, Herndon, VA
July 25, 2020, 10am - 2pm, Bethlehem Baptist, 7836 Fordson Road, Alexandria, VA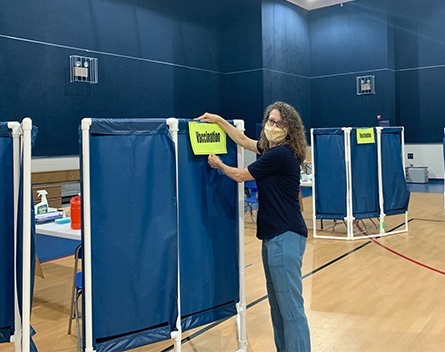 To schedule an appointment, call 703-246-6010, TTY 711. To minimize face-to-face time during the vaccination clinic, families are encouraged to send a picture of their child's vaccination record ahead of time.  
Parents, especially those with children under 2, are also encouraged to call their child's provider to see if any vaccinations are due. Now more than ever, its important that families stay connected to their medical home and get their children vaccinated on time. 
"We want to ensure our children stay healthy and encourage parents to check their children's vaccination records," said Ms. Severo. "If you don't know the status of your child's vaccination, once you have called to make an appointment, a nurse will review your child's record to determine what vaccines are needed."
 
Why your child should get vaccinated
Vaccines can prevent infectious diseases that once killed or harmed many infants, children, and adults. Without vaccines, your child is at risk for getting seriously ill from diseases like measles and whooping cough.
Vaccination is a highly effective, safe and easy way to help keep your family healthy.
On-time vaccination throughout childhood is essential because it helps provide immunity before children are exposed to potentially life-threatening diseases.
Vaccines are tested to ensure that they are safe and effective for children to receive at the recommended ages.
Vaccinations have been disrupted for several reasons. Some parents are no longer taking children to clinics because of movement restrictions imposed to slow the spread of the coronavirus or because they are scared about the risk of exposure to the virus. 
Stay Informed
Children do not receive any known benefits from delaying or skipping vaccines. In fact, delaying or skipping vaccines puts your child at greater risk of contracting a vaccine preventable illness. More information on childhood vaccines can be found on the Health Department's Childhood Immunizations webpage.