August is National Immunization Awareness Month and the Fairfax County Health Department recently recognized two community partners for their contributions in protecting the health of children through their dedicated actions and commitment to immunizations throughout this historic pandemic. 
ACCA Child Development Center in Annandale, Va. And La Petite Academy in Centreville, Va., are being recognized for their commitment to providing care during the COVID-19 pandemic, ensuring infants and children receive age-appropriate immunizations, and for their overall contributions to protecting the health and well-being of children and families in our community.
National Immunization Awareness Month is an annual opportunity to focus community attention on the value of immunizations as a safe, effective and necessary means to protect people of all ages. Today's childhood vaccines protect against potentially life-threatening illnesses, including polio, measles, whooping cough and chickenpox. Preteens and teens also need vaccines like HPV, which protects them against certain types of cancer later in life. Adults need other vaccines, depending on their age, occupation, travel plans and medical conditions. And everyone 6 months of age and older should get a flu vaccine every year.
When people are not vaccinated, they are at increased risk for diseases and can also spread diseases to others in their community – including babies who are too young to be fully vaccinated and people with weakened immune systems due to cancer or other health conditions.
"This recognition is especially important to highlight this year," Said Christine Carlock, RN, the Health Department's Immunization Action Plan Coordinator. "We realize that some families are hesitant to venture out or to visit the doctor, however contagious diseases, like measles, whooping cough, and flu have a costly impact, which can result in doctor's visits, hospitalizations, and premature deaths." 
"Now is the perfect time to make sure children are up to date - getting all of the recommended vaccines is one of the most important things parents can do to protect their children's health, especially during the pandemic."
Required school vaccines are available at your pediatrician's office or for free at the Health Department. 
The Health Department is offering childhood and back-to-school immunizations at three of its clinic sites and at community vaccination events by appointment only. Appointments can be made by calling 703-246-6010. For locations and hours visit the Childhood & Required School Immunizations page.
To allay parents' concerns of visiting a community vaccination clinic or a district office, the Health Department will adhere to strict safety protocols to limit exposure to others. To protect families at the community vaccination clinics and district offices, only a select number of appointments per site will be made available.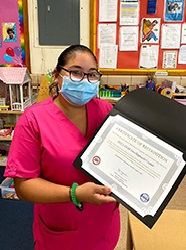 An ACCA Child Development Center of Annandale staff member holds a Certificate of Recognition.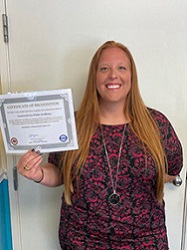 Renee Rossi, director of Centreville La Petite Academy, with a Certificate of Recognition.