The Fairfax County Health Department has updated their COVID-19 Vaccine Data Dashboard to better align with current vaccine recommendations and new measures reported by the Virginia Department of Health (VDH). The Fairfax Health District includes Fairfax County and the cities of Fairfax and Falls Church.
Updates include:
Removed the At Least One Dose measure on all pages except for the race and ethnicity page. As a single vaccine dose affords little protection, this shifts the focus to vaccine regimens that are more meaningful.
Replaced the Fully Vaccinated metric with Completed Primary Series. This better represents people who have received a basic level of protection, but may benefit from additional or booster doses.
Added data for At Least Three Doses and Updated (Bivalent) Boosters. This provides more detailed data about booster dose status and who is up to date with vaccination based on current recommendations.
Expanded the Proportion of People Vaccinated by Age to include all eligible age groups for each of the measures described above.
Expanded Race and Ethnicity vaccine data to include each of the measures described above as well as receipt of At Least One Dose.
Updated the population data using most recent U.S. Census figures that include 2021 5-year estimates. 2019 data were previously used. 
See the updated COVID-19 Vaccine Data dashboard.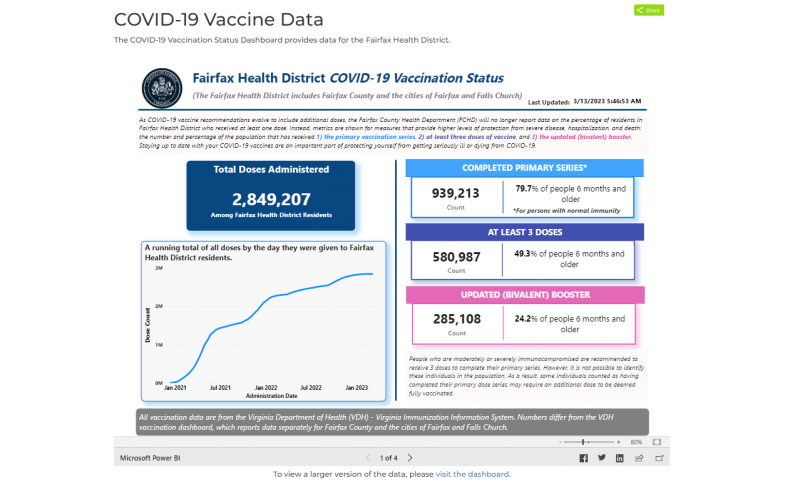 COVID-19 Vaccination Data Update: The Local Picture
In the Fairfax Health District, about 24% of people 6 months and older have received an updated booster dose. Nationally, about 16% of the population has received an updated booster dose.
Adults over 50 years old are most at risk of severe illness, and most COVID-19 deaths occur in people 65 years old and older. In the Fairfax Health District, more than half of adults 65 years old and older have received an updated booster dose. This percentage varies by age, with 53% of those 65-74 years, 64% of those 75-84 years, and 52% of those 85+ years having received this booster.
The percent of people who have received an updated booster is lower in younger age groups, ranging from 11% of children 5-11 years old to 35% of adults 55-64 years old.
Only 13% of children under 5 years old have completed their primary vaccine series, and 1% of children in that age group have received an updated booster dose.
COVID-19 Vaccine Recommendation Reminder
We continue to encourage everyone aged six months and older to stay up to date with their COVID-19 vaccinations, even if you have had COVID-19.
You are up to date with your COVID-19 vaccines when you have completed a COVID-19 vaccine primary series and got the most recent booster dose recommended for you by CDC. For everyone who completed their primary series of vaccinations more than two months ago, being up to date means having received the bivalent (updated) booster which is more effective against the COVID-19 viruses currently found in our community. Visit our website to learn more.
You are best protected from severe illness, hospitalization, and death when you stay up to date with vaccination. Research shows that people who are vaccinated but get COVID-19 are less likely to report post-COVID conditions (long COVID), compared with people who are unvaccinated.
If you need a COVID-19 vaccine, please visit vaccines.gov to find a location near you.