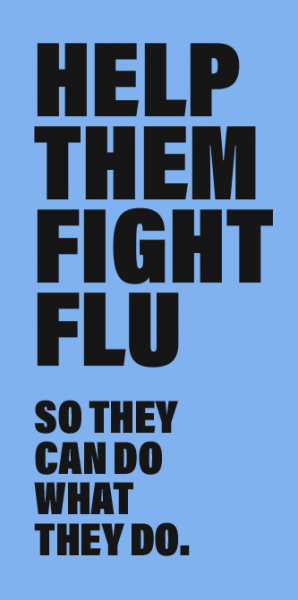 It's not "just the flu." Each year, millions of children get sick, thousands of children are hospitalized, and some children die from flu.
Flu vaccines offer the best defense against flu and its potentially serious complications.
Flu Update for 2023
Among children ages 0 – 17 years, influenza-like illness (ILI) activity in Fairfax remains higher than usual. While visits to emergency departments and urgent care centers for ILI are lower than they were in the late fall, pediatric flu activity is still above average and respiratory illnesses continue to circulate in the community.
Influenza-like illnesses include fever with cough and/or sore throat. Flu symptoms can also include runny or stuffy nose, muscle or body aches, headaches, and fatigue. Children may also have vomiting or diarrhea when sick with flu.
The Virginia Department of Health (VDH) has reported four influenza-associated pediatric deaths during the 2022-23 flu season, so far, all among children ages 5 – 12 years.
As of January 7th, the Centers for Disease Control and Prevention (CDC) estimates about 57% of children ages 6 months – 17 years in Virginia are vaccinated for influenza for this flu season. These estimates are similar to the vaccination rates in children in Virginia during the same time frame last year.
Children who are at Higher Risk of Flu Complications
Complications from flu among children can include pneumonia, dehydration, worsening of long-term medical problems like asthma or heart disease, brain dysfunction, sinus issues, and ear infections.
According to the Centers for Disease Control (CDC), children with certain health conditions may be at higher risk of infection or complications from flu. Examples of chronic conditions include chronic lung or heart problems, diabetes, kidney disease, cystic fibrosis, COPD and asthma, anemia, cancer, weakened immune systems, and seizure disorder.
Children younger than 5 years old are also at higher risk of flu-related hospitalizations. And while healthy children 5 years and older are not at a higher risk, they can spread flu to family members who are at higher risk.
Flu Prevention
In children, annual flu vaccinations reduce flu illnesses, doctor's visits, missed school days, and flu-related hospitalization. It is important for children ages 6 month and older to be vaccinated to protect against infection and severe illness.
Babies under 6 months are too young to be vaccinated, so the best ways to protect these children are for family members and caregivers to get vaccinated and for mothers to get vaccinated while pregnant. Vaccination during pregnancy has been shown to protect babies from flu infection for several months after birth.
The flu virus is constantly changing so getting an annual flu vaccine is recommended. Flu vaccines change each year to try to match the strains that are circulating.
While the best time to get the vaccine is in the early fall, it's not too late if your child (or you!) has not yet been vaccinated. Getting the vaccine any time the flu virus is spreading provides some protection against serious illness. Visit the Fairfax County Health Department website to find locations that offer the flu vaccine.
In addition to vaccination, other everyday prevention actions you can take to prevent the spread of flu (and other respiratory viruses) include:
Covering your mouth and nose with a tissue or your elbow when you cough and sneeze
Washing your hands often with soap and water
Avoiding touching your face to stop from exposing yourself to germs on your hands
Cleaning and disinfecting frequently touched surfaces
Avoiding contact with others who are sick or if you get flu symptoms.
If Your Child Gets the Flu
For most children with mild illness, treatment for influenza includes rest, fluids, and over-the-counter medicines for fever. Children with fever-causing illnesses like influenza should not be given aspirin, as this may cause a rare but serious complication called Reye's syndrome.
Prescription antiviral drugs are available and can reduce the severity of illness. Talk with your child's healthcare provider about whether your child should take antiviral drugs if they become sick with flu. Antibiotics do not treat influenza.
Familiarize yourself with emergency warning signs. If your child experiences any emergency warning signs, go to the emergency room. You should also consult your medical provider for any other symptom that is severe or concerning.
See this VDH fact sheet with more information about flu.