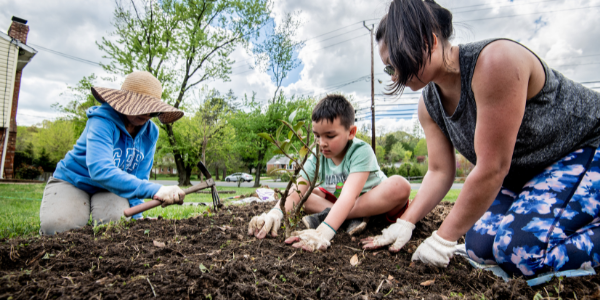 With temperatures rising and spring bulbs poking through the earth, we offer these tips/services to get your lawn and garden ready for spring.
#1: Need Advice? Contact a Master Gardener
For more than 40 years, the Fairfax County Master Gardeners Association has served as the area's experts in helping local gardeners with a host of horticultural conundrums — from selecting the right plants and understanding how to care for them, to conducting home soil tests and helping address pest issues.
During the growing season, master gardeners are on duty five mornings a week, Monday through Friday, from 9 a.m. to noon.
Do you need advice in person? Attend plant clinics, which begin April 9.
The Park Authority's Green Spring Gardens also has a master gardener's group. 
#2: Plant Native
Native plants have numerous benefits, ranging from supporting wildlife to needing little maintenance. Native species will tolerate the environment of our region: the soil, temperature and rainfall, and they have the added bonus of attracting local birds and butterflies.
By planting native species, you will:
Reduce erosion
Reduce runoff
Reduce the spread of non-native species
Maintain the integrity of local habitats
Maintain or improve soil fertility 
Help sequester carbon
Increase birds and other wildlife
Plant deep-rooted options, as the graphic shows below (versus the roots of grass)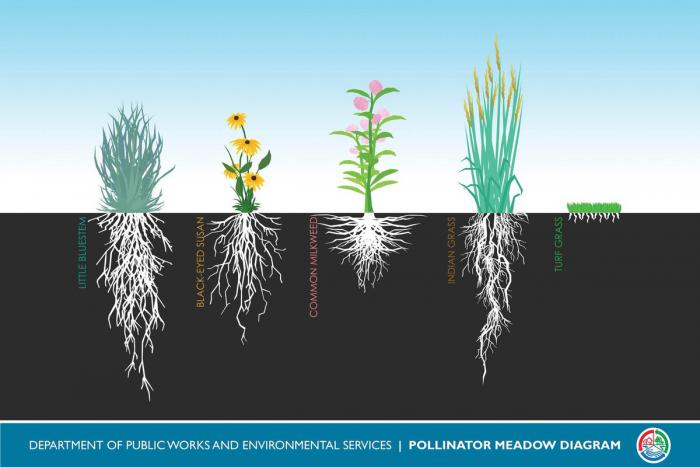 Native trees are also essential to our local ecosystem. Learn more about Plant NOVA Native Trees, a five-year campaign to encourage all of us to plant more beneficial trees. 
#3: Lawn Fertilizer and Soil Test Tips
If you think you need to fertilize your lawn, think again! Don't fertilize in the spring if you have cool-season grass, like tall fescue, Kentucky bluegrass and perennial ryegrass. Most grasses in Northern Virginia are cool-season grasses. Feeding your lawn at the wrong time of year can actually hurt your grass in the long run .
When it rains, excess fertilizer runoff also harms the health of our creeks, streams and the Chesapeake Bay.
A soil test is the best tool available for determining if fertilizer is actually needed. Learn how to get your soil tested at Virginia Tech's Soil Testing Laboratory from the Northern Virginia Soil and Water Conservation District.
#4: Visit Local Garden Centers
Whether you're planning a colorful flower patch or a bountiful backyard veggie garden, these nature centers and nurseries in Fairfax County have you covered. Find seeds, specialty plants, flowers, herbs, veggies, planters and everything in between. Check out this list from Visit Fairfax.
#5: Get Free Mulch
Applying a layer of mulch in spring will help maintain soil moisture and control weeds. Mulching also insulates soils keeping them warmer in winter and cooler in summer.
We produce good quality, double-shredded wood mulch for residents for free. Mulch is usually available at the I-95 and I-66 transfer stations.
Note: Despite the appeal of those attractive mulch mountains, don't pile mulch against tree trunks or plant stems. It can stress plants causing insect and disease problems.
#6: Make a Composting Plan
Composting is nature's way of recycling. And it has evolved a lot in the last few years, including new food compost drop off spots at our I-66 and I-95 transfer stations, as well as at select farmers markets.
Whether you decide to compost at home, contract for curbside collection, or take your organic matter elsewhere, you will be doing your part to help recycle natural matter.
#7: Spring Cleaning
Do you have insecticides, weed killers or other household hazardous waste you want to get rid of safely? We'll take those corrosive, ignitable, toxic and reactive materials items for free at our I-66 and I-95 recycling locations.
Learn what's accepted and not accepted, what's OK to drain and what's OK to trash.
#8: Check Out Library Resources
Yes, go to the library to get the best out of your lawn and garden. There are more than 1,300 "gardening" titles available to check out.
In addition, view our "Field Guide to Fairfax County's Plants and Wildlife," which helps identify common species found in typical neighborhoods, schoolyards, parks and other areas. The guide is a useful resource for any resident who wants to know more about the local environment where they live, work and play. 
#9: Mark Your Calendars: Farmer's Market Schedule
By providing access to locally grown foods, our 10 farmers markets strive to improve the health of residents, support local food producers and protect the environment. Markets open on a rolling schedule beginning April 16. Of course, fresh vegetables, fruits and other goods are available for purchase, as are vegetable plants for your own garden.
#10: Add Your Gardening Actions to Countywide Map
Use our "Watch the Green Grow" mapping application to record environmentally friendly practices in your yard. Upload pictures to show your progress. Each positive report triggers a green spot on a county map. The green areas grow with each beneficial action.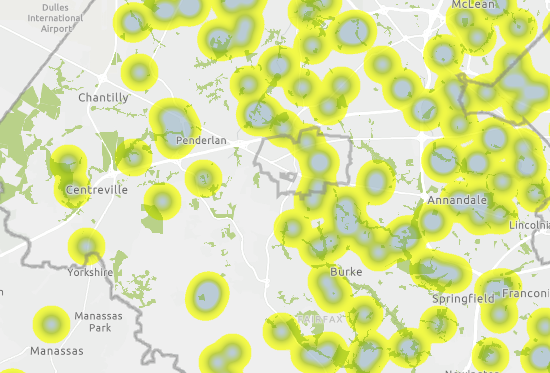 #11: Prevent Tick Bites 
As you're gardening and enjoying the outdoors, ticks are ever present depending on conditions. There are three tick species regularly found in Fairfax County that can transmit disease to humans. Make simple changes to your yard's landscaping to keep ticks away. Learn eight ways to prevent tick bites.