Why Rain Barrels?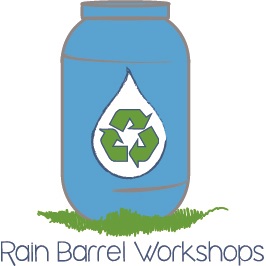 Rain barrels can be placed under your downspouts to capture runoff from the roof. By installing a rain barrel at your home you will:
Provide your plants with water they will love! Unlike treated water, which is "softened" with dissolved minerals, rain water is naturally soft. The water stored in your rain barrel is better than municipal water for washing your car and watering indoor or outdoor plants.
Save money and water! Instead of water from the tap or faucet, you can use the water you've saved to keep your home landscape happy and growing. You'll also reduce your municipal water bill!
Protect the Chesapeake Bay! Water stored in your rain barrel won't rush off into our streams. Instead, as you use the stored rain water around the home and garden, it will absorb slowly into the ground replenishing groundwater supplies. By decreasing the volume of storm runoff, rain barrels also help moderate stream erosion and the resulting pollution that is impairing the Chesapeake Bay.
Rain Barrel Workshops
Rain barrels purchased from retail sources can be expensive. As part of a regional initiative, NVSWCD offers build-your-own rain barrel workshops and distributes low-cost rain barrels to Fairfax County citizens. You will learn how to install and maintain a rain barrel and take one home!
Registration is required for all programs. 
You can sign up to be notified when build-your-own rain barrel workshops and distribution events/sales are made available by registering for our Rain Barrel Notification List. 
Registration closes 3-4 days prior to the event. The fee per barrel is $55 for build-your-own workshops, $80 for a pre-made barrel for distribution events. Only two rain barrels will fit in most vehicles.
2023 Build-Your-Own Workshops - $55
Register for a Build-Your-Own Workshop
Wednesday, March 29, 6:00-7:30pm - Ashlawn Elementary School, 5950 8th Rd. N, Arlington VA 22205
Saturday, May 13, 10:30am - Walker Nature Center, 11450 Glade Dr., Reston VA 20191
2023 Distribution Events/Sales - $80
Purchase a Pre-Built Rain Barrel
Friday, March 31, 9:00am-4:00pm OR Saturday, April 1, 9:00am-12:00pm - Sleepy Hollow Bath & Racquet Court, 3516 Sleep Hollow Rd., Falls Church VA 22042 (Sales open March 7 at 9:00am)
Click here to register online. Instructions on registration by mailing a check are also available. Questions? Please see the rain barrel FAQs below first.
Refunds & Cancellations
Refunds will not be issued for cancelled registrations or no shows. If you are not able to make a workshop for which you are registered, please notify the rain barrel program immediately. We will do our best to reschedule you for a subsequent program. Only one opportunity to reschedule will be given.
Northern Virginia Rain Barrel Art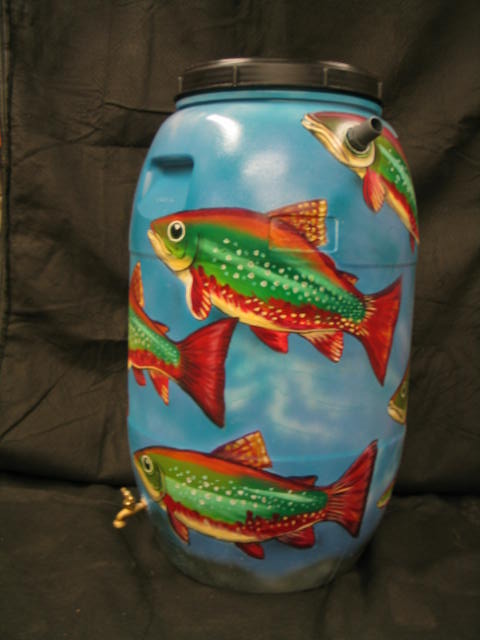 Local artists have generously donated their time and creativity to the Rain Barrel Program. Check out past and current rain barrel art for ideas and inspiration and see our tips for painting your own rain barrel. 
Rain Barrel FAQs
Registering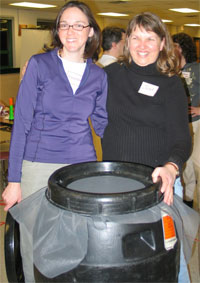 Why do I have to pre-register?
Planning and moving dozens of 55-gallon rain barrels for each event involves a lot of logistics. The Northern Virginia Rain Barrel Program delivers the rain barrels to the workshop space at least one day in advance. We close down registration a few days before to make sure all the payments are received and we have a final, accurate count for delivery. Typically if you register by the Monday, Tuesday or Wednesday before the event, your order will make it through without problems. Thank you for signing up early!
I can't make a rain barrel workshop. Do you have suggestions for places to order rain barrels or purchase a barrel so I can build my own?
Our rain barrel accessories and resources list includes sources for rain barrels. Please note that the Northern Virginia Rain Barrel Program cannot endorse any particular product or company.
The Rain Barrel
What do the rain barrels look like and where do you get them?
The rain barrels are made from black plastic barrels that were used to hold pickles, olives, peppers, or onions. We purchase these barrels from a variety of barrel distributors and reuse them as rain barrels.
How large are the rain barrels?
The rain barrels hold approximately 50 gallons. They are roughly 23 inches wide. They range from 41.25 inches to 43.75 inches tall.
Will I get mosquitoes in my rain barrel?
The rain barrels are capped with fiberglass screen that allows water in but keeps mosquitoes from getting into the barrel to lay their eggs. However, if you are concerned about mosquitoes breeding in your rain barrel, you can add half a Mosquito Dunk to the water in your barrel to kill mosquito larvae. Mosquito Dunks can be purchased at most garden supply stores.
Installation and Use
I have my rain barrel at home. How do I install it?
Download our installation instructions. If you need additional assistance, we have compiled a rain barrel accessories list that includes contact information for local installers. Please note that the Northern Virginia Rain Barrel Program cannot endorse any particular product or company, and individual installers are not affiliated with the program,
I prefer not to shorten my downspout. Is there another way to hook up my rain barrel?
Another option for installing your rain barrel is to use a downspout diverter. Diverters can be manual or automatic. The main advantage of the diverter is that it can be used to regulate the flow of water into the rain barrel. Often you also don't have to shorten your downspout, but you will likely still have to cut into the downspout to install the diverter. Sources for diverters are available on our rain barrel accessories list. Please note that the Northern Virginia Rain Barrel Program cannot endorse any particular product or company.
Is the water in the rain barrel safe to use in my vegetable garden?
There are differing opinions on this subject. Rain barrels that collect water from copper roofs or from roofs where wooden shingles or shakes have been treated with CCA (chromated copper arsenate) to prevent moss or algae growth should not be used on edible plants. If you have treated your roof with chemicals or installed zinc strips to prevent moss or algae growth, you should also not use the water in your rain barrel in your vegetable garden. Other considerations include the potential for air pollution in your area. Water flowing from your roof can contain deposited air pollutants. However, this water may end up in your vegetable garden anyway. No matter what you decide, make sure to wash all your garden produce thoroughly before you eat it!
My faucet is not working properly. Any troubleshooting advice?
We have found a handful of cases in which the faucet does not allow water to flow properly. It seems to be a problem with the faucet itself, not the rain barrel assembly process. We unfortunately have not found a better supplier, though we are always on the lookout. We have been able to fix some faucets by tightening the connection between the faucet and its handle with a wrench and elbow grease. If you have this problem, give it a try!
The Program
Who is working with the Northern Virginia Soil and Water Conservation District on the rain barrel program?
The following organizations and agencies: Clean Virginia Waterways, Arlington County, EcoAction Arlington, the City of Alexandria, the City of Falls Church, the Reston Association, Virginia Master Naturalists – Fairfax and Arlington Regional Chapters, Fairfax County Master Gardeners, Fairfax County Park Authority, Fairfax County Public Schools, Fairfax County Department of Public Works and Environmental Services and numerous individual volunteers.